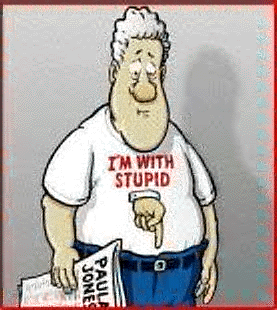 Clinton Jokes
Bob Dole, Dan Quayle, and Bill Clinton all get sucked up by a tornado and deposited safely in the Land of Oz. Due to being disoriented, they look around and wander aimlessly for a few minutes before they figure out where they are. Bob Dole says, "Seeing as how we're in Oz, I'm going to the Wizard and ask for a heart." Dan Quayle replies," I'll go with you and I'll ask the Wizard for a brain." Bill Clinton looks around a little more and says, "I wonder where Dorothy is?"
During a recent publicity outing, Hillary sneaked off to visit a fortune teller of some local repute. In a dark and hazy room, peering into a crystal ball, the mystic delivered grave news. "There's no easy way to say this, so I'll just be blunt: Prepare yourself to be a widow. Your husband will die a violent and horrible death this year." Visibly shaken, Hillary stared at the woman's lined face, then at the single flickering candle, then down at her hands. She took a few deep breaths to compose herself. She simply had to know. She met the fortune teller's gaze, steadied her voice, and asked, "Will I be acquitted?"
Al Gore and the Clintons are flying on Air Force One. Bill looks at Al, chuckles and says, "You know, I could throw a $100 bill out the window right now and make one person very happy." Al shrugs his stiff shoulders and says, "Well, I could throw ten $10 bills out the window and make 10 people very happy." Hillary tosses her perfectly hair-sprayed coif and says, "I could throw one hundred $1 bills out the window and make a hundred people very happy." Chelsea rolls her eyes, looks at all of them and says, "I could throw all of you out the window and make the whole country happy!!
"Quotes on President"
The reason it's always so difficult for this president to tell the truth, the whole truth, and nothing but the truth is because it's usually three different stories. --Sam Donaldson
If the president could convince every woman in America that the Bible says oral sex is not adultery, he'd even have my vote. --Newt Gingrich
What's wrong with extending my probe? The president did the same thing. --Kenneth Starr
The special prosecutor is asking me to give oral testimony to the entire Grand Jury. --Monica Lewinsky
Shouldn't the president be held to the same standards as a TV sportscaster? --Marv Albert
The president should promise to spend the rest of his life trying to find the real person who had oral sex with the intern. --O. J. Simpson
If I had to spend all day trying to find jobs for every bimbo who swore she didn't have sex with the president, I'd never get any of my own work done. --Vernon Jordan
Practicing safe sex in the Clinton White House means making sure the door is locked. --George Stephanopoulos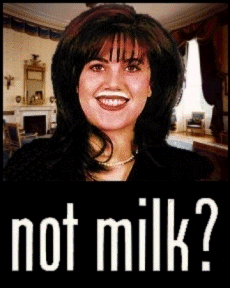 "Presidential Test"
1. Which president smoked marijuana with a nude playgirl while he joked about being too wasted to "push the button" in case of nuclear attack?
2. Which president allegedly had affairs with both a winner AND a finalist in the Miss America pageant?
3. Which president had sex with one of his secretaries stretched out atop a desk in the oval office?
4. Which president allegedly had an affair (as well as children) with a slave who was his wife's half sister?
5. Which president called his mistress "Pookie?"
6. Which president married a woman who hadn't yet divorced her first husband, and was branded an "adulterer" during his re-election campaign?
7. Which future president wrote love letters to his neighbor's wife while he was engaged to someone else?
8. Which presidents had torrid affairs with the first lady's personal secretary?
9. Which president had sex with a young woman in a White House coat closet - at one point, while a secret service agent prevented the hysterical first lady from attacking them?
10. Which president had sex in a closet while telling his partner about the other president who did the same in a closet? (The one from Question 9)?
11. Which vice president was ticked off because he felt that HIS record of sexual conquests was much more "impressive" (i.e. numerous) than the President's?
12. Which future president, while a college student, enjoyed showing off his penis (which he named Jumbo)?
ANSWERS 1. John F. Kennedy 2. Bill Clinton 3. Lyndon B. Johnson 4. Thomas Jefferson 5. Bill Clinton 6. Andrew Jackson 7. George Washington, Lyndon B. Johnson 8. Franklin D. Roosevelt, John F. Kennedy 9. Warren G. Harding 10. John F. Kennedy 11. Lyndon B. Johnson 12. Lyndon B. Johnson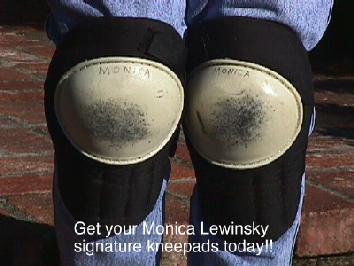 More Clinton Jokes
Today is Monica's birthday. She is now 23 years old. Yes, it seems like just yesterday when she was crawling on her hands and knees in the White House.
The number of weeks after the Monica Lewinsky story broke that a Denver company began selling "presidential kneepads"
The FBI reports less crime in the U.S. for the sixth straight year. "It's no wonder," said one observer. "All of Clinton's business associates are either dead or in prison already."
One thing's for sure about Clinton... He sure doesn't neglect domestic affairs!
Is it true that they are changing the name of the Virgin Islands since Clinton' has been there?
The DNA test results of Monica's dress stains are back and they are negative. All they found, in one of the pockets, was a wad of Bills.
If President Clinton practiced safe, monogamous sex, he wouldn't be worried about aides.
Clinton really has bad luck even besides all his female escapades. He was helping Monica with her computer and it went down on him too.
An official Gallup survey polled over 1000 women with the question: Would you sleep with Bill Clinton? 97% gave the reply, Never Again!
President Clinton looks up from his desk in the Oval Office to see one of his aides nervously approach him. "What is it?" yells the President. "It's this abortion bill, Mr. President. What do you want to do about it?" the aide asks. "Just go ahead and pay it." responds the President.
Bill and Hillary are at the first baseball game of the season. The umpire walks up to the VIP section and says something. Suddenly Clinton grabs Hillary by the collar and throws her over the wall onto the field. The stunned umpired shouts, "No, Mr. President! I said, 'Throw the first PITCH!'"
Bill and Hillary are at a restaurant. The waiter tells them tonight's specials are chicken almondine and fresh fish. "The chicken sounds good; I'll have that," Hillary says. The waiter nods. "And the vegetable?" he asks. "Oh, he'll have the fish," Hillary replies.
Bill and Hillary are on a sinking boat. Who gets saved? The nation.
What does Bill say to Hillary after having sex? "Honey, I'll be home in 20 minutes."
Clinton returns from a vacation in Arkansas and walks down the steps of Air Force One with two pigs under his arms. At the bottom of the steps, he says to the honor guardsman, "These are genuine Arkansas Razor-Back Hogs. I got this one for Chelsea and this one for Hillary." The guardsman replies, "Nice trade, Sir."
One day, Clinton angrily called the White House interior decorator into the Oval Office. He said, "Chelsea is very upset because she thinks she has the ugliest room in the entire White House; I want something done about it immediately!" "Yes Sir, Mr. President," the interior decorator replies. "I'll take those mirrors out right away!"
"Hey Bill, I've got a perfect defense for your problem," says Vernon Jordan. "Oh yeah, what's that Vernon?," asks Bill. Vernon excitedly says, "Well you remember when you were being pressed about smoking pot and you told everyone that you didn't inhale?" Bill replied, "Yeah so what?" "Well you convinced everyone that you didn't actually smoke pot, so if we can convince Monica to say she didn't swallow...we've got a perfect defense".
There's a new game being played in Washington D. C. It's called swallow the leader.
What did Clinton say to Al Gore about the whole affair? "Pardon Me."
What's the difference between Nixon and Clinton? Deep Throat brought down Nixon, but Deep Throat WENT DOWN on Clinton!
How can you tell which one of the White House interns is the head intern? She's the one with the dirty knees.
Did you hear Clinton doesn't use bookmarks? He just bends over the pages!
Why doesn't Monica eat bananas? She can't find the zipper.
President Clinton said to Monica, "I didn't tell you to lie in deposition, I told you to lie in THAT POSITION!"
Realization from another White House intern... " And all that time I thought that humming was the shredder!"
Why does Clinton think he's innocent? Because he didn't inhale the intern!
How did Bill reply regarding questions of "coaching" Monica's testimony? "It wasn't words that I put in her mouth".
It occurred to me that for a young woman, taking a job in the White House, these days, could be thought of as joining the "Piece Corps".
Let's see if I have this straight... people are upset with Clinton for allegedly doing to one person what George Bush and Ronald Reagan did to the entire country. Isn't envy a terrible thing?
While browsing the White House's web page looking for info about the latest scandal, I knew I had succeeded when I found the following header at the top of the page under the current press releases: "The White House at Work: Increasing Support for Family Planning" Ah, well I guess that's one way to put it...
Prosecutors have agreed to spare Ted Kaczynski's life, in exchange for his testimony of having had an affair with President Clinton.
This is from a contest on Long Island. The requirements were to use the words Lewinsky and Kaczynski in a limerick. Here are the 3 winners:
Entry # 1 There once was a gal named Lewinsky Who played on a flute like Stravinsky 'Twas "Hail to the Chief" on this flute made of beef that stole the front page from Kaczynski.
Entry # 2 Said Bill Clinton to young Ms. Lewinsky We don't want to leave clues like Kaczynski, Since you look such a mess, use the hem of your dress And wipe that stuff off of your chinsky.
Entry # 3 Lewinsky and Clinton have shown what Kaczynski must surely have known: that an intern is better than a bomb in a letter given the choice of how to be blown.
E-Mail me at: CarlMerritt@compuserve.com