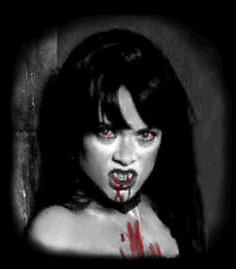 Night of the Bats
By Carl R. Merritt
As darkness fell upon Moore's Lake, the huge, brown bats swarmed out of Abe's tomb in a frenzy. In a loose formation of leathery wings, they headed straight for the town's business district, pure evil occupying their small little minds. Abe, their master, had not noticed their departure, wouldn't have cared if he had. The ghoul knew that the bats, though not always under his direct control, would do no real harm to any living creature. They were not blood feeders like so many stories had them made out to be, but fed solely on berries and assorted fruits.
The bats seemed to have forgotten this small fact, however, for their hunger this night was not for fruits and berries, but for blood . . . preferably human blood.

Mrs. Johnson was just pulling her car into the driveway when her headlights picked up the ravenous bats. She was horrified at what she saw. The bats, at least twenty of them, were attacking her cat like a plague. Puffy, no more than a seven week old kitten, was swiping at the hideous monsters with its front paws, which were declawed. The bats, each larger than the kitten, ignored the feline's feeble attempts of self-preservation and continued in their quest of satiating their hunger by sinking their needle sharp teeth deep into the little cat's neck to release its life blood.
Jumping out of her car, Mrs. Johnson ran to the life or death struggle to try and save her precious Puffy. But the moment she neared the battle, she found herself under attack as well by the hideous brown mammals.
They first used their claws to scratch away at the woman's face and eyes, then went for more easily accessible meat by biting her on her unprotected legs. Fluttering around the twenty- nine year old woman and striking at will was proving easy for the bats, for Mrs. Johnson foolishly had her eyes closed as she flailed away blindly, hoping to drive them off without actually having to touch one. When the bats began working their way up her loose fitting dress, nipping away at her inner thighs, Mrs. Johnson gave up trying to help the cat and quickly ran inside her house.
Slamming the front door shut, Mrs. Johnson ran over to the window to see if her cat had escaped. The woman began crying . . . the bats were all crowded around the fallen cat, lapping away at the spilt blood. Puffy was dead.


Sandy Miller, a twenty-one year old college student, had just left her frat house to sit on the front porch. She was waiting on a ride from her friend Trish, who had borrowed her father's car for the evening. Sandy and her friend had plans to party all night long, Tuesday or no Tuesday.
As Sandy waited, she thought about the boy she would most like to go partying with, a senior named Jamie. Trish was alright, but she was just a friend, Sandy's BEST friend for sure, but still just a friend. Jamie, however, was a male. And to Sandy, that made all the difference. She needed a man's company like she needed air to breathe. It didn't really matter if they had sex or not, Sandy just needed to be near a man to feel comfortable, relaxed.
Trish pulled up in front of the frat house while Sandy was still daydreaming. Seeing that Sandy hadn't noticed her, she blew the horn to get her attention. When that didn't work, Trish laid on the horn for a good ten seconds. Finally, Sandy realized her ride was waiting and ran out to the car, slightly embarrassed at having been so caught up in the daydream.
Totally amazed at her friend's lack of observation, Trish got out of the car to meet with Sandy at the sidewalk. The look on Sandy's face told her the whole story.
"You were thinking about Jamie again, weren't you? I swear, girl! Sometimes you can be as... "
Trish never got the chance to finish. Attracted by the headlights and the sound of the horn, the bats viciously attacked the two girls, trying to get at their young, soft throats. They got into the girls' hair and one bat was lucky enough to put a large gash in Sandy's cheek before the girls screamed and ran to the car for protection against the hungry animals.
Once inside, they hurried to roll up the windows to keep the bats outside.
Sandy, blood running down her face and ruining her halter, yelled, "Come on! Let's get out of here!"
But Trish just looked at her friend in horror and pointed outside.
With the vicious, blood-thirsty mammals surrounding the car, seeking a way to reach the two girls, Sandy looked out to where her friend was pointing and saw the keys. Trish had dropped them on the sidewalk when they were surprised by the bats.


As the sun fell below the western horizon, Amy Stern quickened her pace to get home. She was much later leaving the library than she had intended and she knew if she didn't hurry, her parents would absolutely kill her for getting home from school so late. And worse, if they grounded her, she knew the date she had lined up for Saturday night would never happen. To Amy, going out with Tom Brent, the school's star quarterback, was the most important thing in her life right now. No, she thought, being grounded for life is not an option!
So after clutching her books a little closer to her chest, the sixteen year old girl began to run, never stopping to consider her short dress was revealing a little more than it should.
Jogging away from the Moore's Lake business district, drops of perspiration running freely down her face, Amy reached her own neighborhood in record time. Her home was located within the high income section of town and the houses were few and far apart, with perhaps as much as a hundred yards of wooded area between the $300,000 homes.
With her house now only a few blocks away, Amy Stern was just passing one of these heavily wooded areas when it happened. Suddenly, without warning of any kind, she was attacked from behind. Something hit Amy so hard in the back, her books went flying and she went sprawling face first into the sidewalk.
Dazed and bleeding from a half dozen scrapes, Amy rolled over to see a huge brown bat hovering three feet above the ground.
A bat did this to me? she asked herself as she stared at the creature in shock, somehow being captivated by the awesome sight. How could a bat, no matter how large, have had the power to knock me down like this? But as Amy stared at the huge beast, something even stranger happened. It began to change shape into that of a woman!
A young, beautiful and very . . . naked . . . woman!
She had hair as black as a raven and it reached halfway down her back. She was thin, perhaps five and a half feet tall and weighing perhaps a hundred and ten pounds . . . but with a body proportioned very well. And her eyes . . . they seemed to lock on to and hold the young girl, not allowing her to run.
And then suddenly Amy knew her own existence on the Earth was nearly over. When the woman opened her mouth in a feral snarl, the young schoolgirl saw her teeth. There were two canines protruding . . . the teeth of a vampire!
Amy screamed, which seemed to infuriate the female vampire. The naked creature hissed and lunged at Amy, her teeth barred for blood. Still on her back, Amy threw her arms up in front of her face as her only means of defense. But the attack was so quick, so savage, that Amy wouldn't have been able to defend herself even if she hadn't been paralyzed by the creature's piercing eyes.
The vampire knocked Amy's arms aside as if they were nothing and drove an open hand into the young girl's face. The next instant, the naked woman sank her teeth through the girl's thin blouse and into the soft flesh of her shoulder. Screaming and kicking her legs up in horror and pain, Amy tried her best to knock the evil, immortal beast off of her . . . and was fighting a losing battle all the way.
The woman backhanded Amy across the face, driving the young girl into the depths of unconsciousness. Even with her victim now subdued, the vampire's wild attack was still vicious. Over and over, she beat the young girl's face until blood flowed excessively from her nose and mouth. Finally, sensing her meal was ready, the sadistic woman slowly lowered her face over Amy's neck, her two canines appearing to grow even larger.
Then, with a sigh of pure pleasure, the naked vampire sank her teeth into Amy's unprotected jugular and began to feed. Within minutes, Amy was dead . . . nearly all the blood gone from her body.


"Jesus! Who would do something like this to such a beautiful little girl?" Roscoe Long, the Police Captain of Moore's Lake, asked as he inspected the gruesome crime scene. The girl, identified by identification in her purse as Amy Stern, had been found by a passing motorist a half hour earlier. After receiving the call, Captain Long had rushed out to the scene personally, not entirely believing the crime could have been as brutal as the motorist had claimed. Once seeing the situation first hand, however, he knew the motorist had been correct, that this was most likely the most savage killing in the town's recent history.
Until pictures could be taken and fingerprints, if any, could be lifted, Amy's body had to be left as it had been found, on her back with her blouse torn to shreds, legs spread wide and a once beautiful face beaten to a pulp. The teeth marks on Amy's neck and shoulder were being missed so far as they were still covered by the remnants of her torn blouse.
"Who would've thought a small town like Moore's Lake would have such a brutal rapist within its limits?" Jake Anderson, a traffic cop who normally didn't even bother carrying a gun, commented.
"It wasn't rape, Anderson," Long commented as he pointed to the girl's crotch, plainly visible with the hiked up dress. "Look at her panties . . . haven't been touched. No, this was just plain murder."
"I wouldn't say there is anything 'plain' about this, Captain." This came from Charles Peterson, a reporter from The Lake Times. He was standing off to the side taking notes and getting his camera ready, not that he would ever print a picture of a poor girl laying half naked and dead in the paper. But it was his responsibility to take these pictures for the Police Department since their force wasn't large enough to have a full time photographer of their own. "For instance, look at the girl's complexion. Look how pale she is. It's like she was scared to death!"
"No. Not scared to death," Captain Long replied, seeing what the reporter was getting at. He lifted the girl's arm to verify his theory and said, "She was bled to death! Look! The veins and arteries in her wrist have all collapsed! There's no blood in them!"
"Then where is it?" Anderson asked as he went to his police cruiser to answer the radio. "There's not much blood on the ground."
Good question, both Captain Long and Charles Peterson thought. Where did all the blood go?
Both men were still considering this when Anderson came running back. His expression told the captain that something was terribly wrong. "Bats! The whole east side of town is being attacked by big, brown bats!"
"Abe!" Captain Long said, a look of horror appearing on his own face as well. "He's sent his bats in to destroy the town!"
"That's nonsense!" the reporter growled. "He wouldn't do that! It's not his way!"
"Look, Peterson! I've read your recent article just like everybody else in town and I know that you somehow became friends with that damned ghoul! But how do you explain this if it wasn't bats?"
"For one damn thing . . . Captain . . . those bats suck the juices out of fruits and berries when they feed. They don't drink blood! And how many bats would it take to drain all the blood out of a human body, anyway? A hundred? Two hundred? Come to your senses!"
"Listen! We can't take the time to argue about this right now!" the captain said, turning to his patrolman. "Jake, stay here until the forensics team has finished and the coroner has taken the body away. Then head on over to the east end and start getting reports from those who got attacked by these bats. Peterson, hurry up and take those pictures, then get them to the station as soon as they're developed. That's where I'll be. I'm going to re-activate that attack team!"


The bats continued the unprecedented attacks all night long. By morning when it was over, the station had received thirty-seven calls from people who were assaulted by Abe's bats. The vampire, after ordering the bats to cause the perfect distraction for her, was satiated after gorging herself with Amy's blood and did not return that evening. She only needed one victim per night.


The following evening after darkness set in, Jamie Russell had just finished balancing the cash register in the convenience store where he worked. Putting the money away in the safe was the last thing he had to do before going home and calling it a night. Well, not quite calling it a night, he mused with a grin. He still wanted to call Sandy to see how she was doing after her ordeal with the bats the previous evening. So after locking the safe and checking the back once more, Jamie went out through the front door, locking it behind him.
Walking out to his car on the other side of the lot, Jamie looked up into the sky and grumbled to himself at how dismal the night had become. The moon was lost behind a blanket of clouds and there was a damp chill in the air. He knew he'd have to turn on the heater in his car if he were to stay warm on the way home. Jamie turned his shirt collar up and continued the long walk to his car...
...and never made it.
The bat came down out of the night sky and flew directly into Jamie's forehead, knocking him to the ground. After hearing the news reports all evening on the store's radio, he thought he knew what was happening. He prepared himself to fight off a swarm of blood thirsty bats.
But they never came. Instead, the lone bat that had hit him in the head floated just a few feet off the ground in front of him. When its form began to change into that of a beautiful young woman, totally naked, Jamie thought he was hallucinating.
The young man marveled at the beauty of this woman. A little wild looking, but still lovely all the same. She had breasts like Jamie had only seen in his dreams and her legs were as long as he had ever imagined a woman's to be, perfectly tapered as well and holding their fair share of muscles. But her hair . . . her hair was so long and full, he thought it must be a wig. And this did a lot in itself to distract Jamie just long enough to realize that he was frozen in place by this wild woman's eyes. They seemed to project her thoughts to him, making him stand still, accept her tender embrace.
Then the horror came. Once she knew her intended victim was enchanted, she bared her teeth and prepared to feed. That's when Jamie saw her for what she was . . . a vampire!
The next instant, Jamie was fighting for his life. She was atop him and savagely slamming away at Jamie like some wild animal. And wild she was . . . totally feral. Saliva drooled from her canines as she anticipated her next meal. The vampire's hair, now in total disarray, hung in Jamie's eyes, obstructing his vision as she flailed away at him mercilessly. But just then, Jamie got extremely lucky and was able to brace one leg just enough to get some leverage . . . enough whereas he was able to throw the strong creature off him and get to his knees.
However, Jamie's small victory was short-lived. With a savage snarl, the beautiful vampire rushed at Jamie once again, this time getting hold of his left hand. Then, with amazing strength, the feral woman ripped his hand off at the wrist, blood spurting out all over her naked body. As Jamie screamed in pain, the vampire reached one hand to his throat and cut off his air while at the same time putting her hungry mouth to the stub where his hand had been.
While Jamie suffocated to death, the vampire fed, his blood pouring down her hungry throat. The last thing Jamie saw while his life came to an end was the blood soaked hair of his killer . . . still obscuring his vision.
Once again, the vampire managed to leave the scene after her meal without being seen by anyone else, without leaving a definite clue to her existence.


Charles Peterson had no fears whatsoever as he made his way through the cave. With two deaths now in Moore's Lake, both the result of blood loss, he had no choice but to have a talk with Abe to see what his new friend knew about the situation.
As he neared the tomb, the reporter noted the absence of any bats. They attacked him last time as he entered the tomb itself instead of outside in the cave like everyone else. So as he pulled open the tomb's door, the same old headstone, he prepared himself for the assault.
But nothing happened. The bats were gone.
"Abe!" he shouted. "We need to talk!"
Almost instantly, the ghoul appeared in a swirling mist and soon took his familiar form of the Grim Reaper. He looked tired and worn out, Peterson thought as he watched Abe solidify. Before the reporter could say a word, the ghoul spoke in that deep, grave digger's voice from hell.
"YES! I KNOW WHY YOU HAVE COME. YOU ARE HERE TO INQUIRE ABOUT THE BATS AND TO SEE IF I KNOW ANYTHING ABOUT THE DEATHS OF TWO OF YOUR CITIZENS!"
"That's correct, friend. I don't think you are responsible, but I do believe you have some information you'd like to share with me. Abe . . . what's happening in Moore's Lake?"
"THE PLAIN AND SIMPLE TRUTH IS, YOU . . . WE HAVE A VAMPIRE ON OUR HANDS AND SHE HAS TAKEN OVER CONTROL OF MY BATS! SHE IS USING THEM AS A DISTRACTION SO SHE CAN FEED ON THE PEOPLE OF MOORE'S LAKE AND THERE'S NOT A WHOLE LOT I CAN DO ABOUT IT."
"But why not? You have immense power at your disposal! You can do things no mortal man can even comprehend! Like that skeleton outside, for example . . . you once gave a man a second head, for christsake!"
"I HAVE NO POWER OVER THE UNDEAD. I CAN HELP THE DEAD COME BACK TO LIFE IF THAT IS THEIR WISH, BUT A VAMPIRE IS DIFFERENT. THEY ARE NEITHER ALIVE NOR DEAD. THEY ARE IN THAT STATE IN BETWEEN WHERE NOTHING CAN INHIBIT THEIR ACTIONS. THERE ARE WAYS, OF COURSE, TO KILL A VAMPIRE AND THOSE ARE ALL THE MEANS I HAVE AT MY DISPOSAL TO STOP VAMPRA."
"Vampra?! Is that her name?"
"THAT IS THE NAME SHE NOW CALLS HERSELF. I PICKED THAT UP FROM READING HER DEMENTED MIND. SHE IS MAD, PETERSON . . . COMPLETELY AND IRREVERSIBLY INSANE."
"And you've been out the last two nights trying to stop her, right? Why?"
"I HAVE ATTEMPTED TO STOP HER . . . AND I HAVE FAILED. AS FOR 'WHY,' I DON'T WANT TO SEE THE INNOCENT SUFFER AND DIE ANYMORE THAN ANYONE ELSE, EVEN IF THEY ARE FROM MOORE'S LAKE. I ONLY EXTRACT A PRICE FROM THE FOOLHARDY AND THE EVIL ONES THAT INHABIT THE EARTH. THAT GIRL AND YOUNG MAN WHO HAVE DIED . . . THEY HAD DONE NOTHING TO DESERVE MY WRATH. VAMPRA ON THE OTHER HAND . . . HAS!"
"I have an idea, Abe! Captain Long has reorganized that same team that tried to attack you once. I'll get together with him this afternoon and inform him of who and what he's after. I'll go out tonight with them. Meet up with us. Maybe if we band together, we can take on this 'Vampra' bitch!"
"AGREED!"


That evening there was a full moon, which did a lot to embed the fears even deeper into the newly reorganized assault team. The five hastily assembled members of the team, plus the reporter, Charles Peterson, cautiously made their way through the town's business district looking for any sign of the female vampire. With a town curfew now in effect until daylight, they were alone in the streets. Not even a car drove by on the town's main thoroughfare.
"Hey, Peterson!" Sgt. Sam Baker said in an attempt to give the reporter a hard time, "If we see her, can I borrow your toothpicks and rabbit's foot? God knows this little M-16 won't do any good!"
"You can joke all you want, Sarge. That's fine by me. But I'm telling you that these wooden stakes are just about all that going to kill her!"
" 'Just about' you say? What else can we use?" Captain Roscoe Long asked. If there were other weapons his team could use, he wanted to know about them.
"You've watched all the movies, haven't you? You can use a cross, holy water . . . trouble is getting close enough to her to use them! I've talked to Abe and he agrees, if we get close enough to kill her, we stand a good chance of getting killed ourselves! There's also sunlight, but... "
"All the same, if this hunt is still going on tomorrow, we're going to rethink what we're using for weapons. Myself, I'm going to the Catholic church tomorrow morning to pick up some holy water! Hell, I'd throw bananas at her if I thought they would do any good!"
Just then, they all heard a child's scream, a gut wrenching cry for help that could only mean one thing . . . Vampra was feeding!
"This way!" Captain Long yelled, pointing in the direction he thought the scream came from. The five members of the attack team and Peterson ran as fast as they could, however in their hearts, they knew if the victim screamed, it was most likely already to late.
They rounded a corner and found a naked woman bent over the body of a young girl, perhaps eleven or twelve years old. The child was still kicking and struggling to force the vampire away, though she was having no luck at all. The vampire, Vampra, seemed to be taking her time with her small victim, thinking to be in complete control.
"Get the hell away from that girl!" Long yelled, raising his M-16, getting ready to fire if he got a clear shot.
Vampra was shocked at the strange voice and jerked her head up to see where it had originated. When she saw the assault team approaching on the run, she knew there was no longer time to feed on this fresh, young girl. So she simply hissed at the team, changed form into that of a bat, and quickly flew off into the night.
Checking the young girl for injuries, Marcia Lewis, the team's weapons expert, found that with the exception of a few scrapes and bruises, the child was fine. There was no sign of a bite. Satisfied the girl would not turn into a vampire herself, Marcia let Marc Lamas take over, the team's paramedic.
"Where are your parents?" Marcia asked, not believing a child could be wandering the streets alone this time of night after all the news reports warning people of Moore's Lake not to do so.
Shock setting in, all the young girl could do was point. She was indicating an area over by a dumpster, her finger trembling.
The team thought they knew what they were going to find by that dumpster, and unfortunately, they were correct. Laying in her own blood was the child's mother, her head ripped from her body and nowhere to be found. With the amount of blood pooled around her, it was clear Vampra didn't bother feeding on the mother when a smaller, younger victim was also available. That delay cost Vampra her meal. If the vampire would have fed on the mother instead of wasting the time getting her out of the way first so she could feed on the child instead, the vampire would have been satiated by now. In short, the mother paid for her child's life with her own.
"Vampra is still out there looking for a meal," Peterson said, staring at the headless body.
Captain Long silently agreed and knew something had to be done fast. "Okay, here's what we do. Peterson! You and Marcia stay here with the child while we call the coroner. Once he arrives, take the child back to the station and begin patrolling quadrant three. If you see Vampra, call us on your radio before attempting to take her on yourselves. Clear? Don't try to take that evil bitch alone! Marc! You and Sgt. Baker take quadrant two with the same standing orders. Anderson and I will take the squad car and patrol one and four.
"I figure if we split up, we stand a better chance of finding this bitch. And the sooner we find her, the more lives we save. Now let's go!"
Twenty-five minutes later, Vampra had spotted another victim. However before she could attack, Lamas and Baker also saw the old man and ordered him inside his house. He had been ignoring the curfew and was outside with his telescope, watching the stars.
Vampra, still in her bat form, screeched and flew off . . . famished.
Another hour went by before another scream was heard. This time it was Marcia and Charles Peterson who were in the vicinity. While the police woman ran off to the source of the eerie sound, she threw Peterson her radio so he could call in. She arrived at the scene seconds ahead of Peterson and was in time to see Vampra, again totally naked with two dead bodies at her feet, engaged in a battle for her very existence. Abe was there, hovering two meters off the ground with a brilliant beam of unearthly energy emanating from his hands. He was directing it at a tree that appeared to have come to life. The tree's branches had become sharp spears and the ghoul was trying to sink one into Vampra's heart as she screeched and hissed in frustration and anger.
Abe knew he had to stop Vampra from feeding on the two dead bodies, or at least, prevent her from fleeing until the attack team had a chance to arrive.
He was not successful.
The moment Vampra saw Marcia, she changed form and flew off to continue her quest for food.
"THE TWO WERE LOVERS." Abe said to the police woman after Vampra had escaped. "THEY WERE ENJOYING THE ULTIMATE PLEASURE UNDER THE STARS. THEY PAID THE ULTIMATE PRICE."
"Did the bitch have a chance to feed?" Peterson asked, just sliding to a halt beside Maria, who was in the process of examining the two bodies.
"No," she replied. "Too much blood around here. If she got any, it surely couldn't have been enough."
"I almost wish she had been successful. At least that way, it would be over . . . no more killings."
"BUT ONLY FOR TONIGHT!" Abe stated in his deep voice. "TOMORROW, SHE WOULD STILL BE HUNGRY!"
"Moore's Lake is in big trouble, isn't it?" Marcia asked the ghoul.
"VERY MUCH SO," Abe replied, sorrow evident in his voice.

To Be Continued...

Click here for the conclusion . . . Darlene!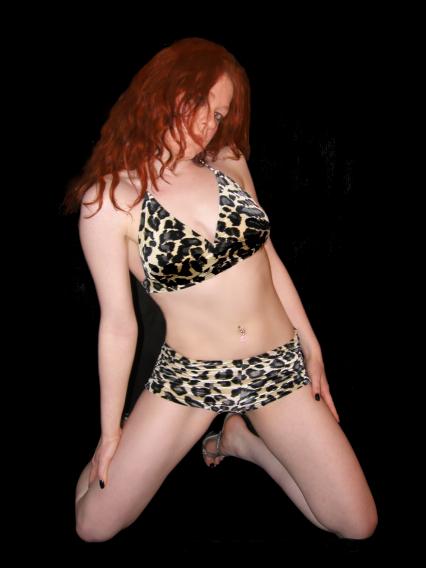 Hello, everyone! I'm Amanda Fire. Put your cursor on my picture for some cool information!!
---
---
---
---
E-Mail me at: CarlMerritt@compuserve.com