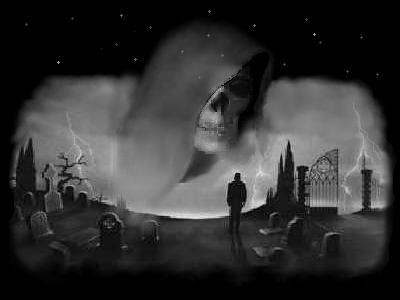 "Welcome to my tomb!! Your request?"
Abe has been gone from this world for over a hundred years, but that doesn't mean he's been completely dead. He returns from the spirit world whenever someone enters his tomb requesting a wish. He will fulfill it, of course . . . but only for a price. The question is, do you want to pay?
Owned by Carl R. Merritt, Abe's Tomb is home to some of the best horror stories on the net. Abe's stories are off to the left and the long-awaited Tales of Terror, just below. If you're done reading, or waiting for the next story, don't forget to check out the online games, original art, and the jokes. Enjoy.

E-Mail me at: CarlMerritt@compuserve.com

View My Guestbook
Sign My Guestbook

---
Copyright Information
You may freely read any of these short stories that you like. You may download them or print them out if you want to read them offline. You can do just about anything on this site your little heart desires except use any of these short stories in any manner for your own benefit. Remember one thing . . . all of the "Abe's Tomb" stories have been copyrighted and may not be duplicated or posted on any other web site. I WILL take violators to court over this issue, so don't try me. Lastly, it would be best to read Abe's stories in the order in which they appear as they are all a continuing story.

See how Abe's Tomb rates among other literary sites by clicking on the link above. (Clicking on the link will not add to the count. Abe was getting too far out in front, so I evened the odds a little by changing the link.)
Click here to take the latest poll!
Click here to play the best games!
Click here for submission guidelines!
Click here to view "Halls of Hell" (original artwork)