The ESPer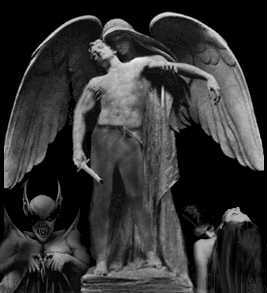 Carl R. Merritt
---
Part II
The Satanic Onslaught
It had been a hard night at work and Susan Moore was ready to take a shower and hit the sack. Even though she was a union representative and didn't have to work on the assembly line at the automobile parts plant, Susan was tired, mentally drained and had two feet that were killing her. The constant running around settling grievance after grievance and the continuous hassles with upper management were all slowly taking toll on the thirty-five year old woman. She was seriously considering not running for office again come the next election. The position of committeeperson was a job everyone envied . . . until they had it.
Taking the pins out of her hair, Susan turned on the radio and started to undress, the thoughts of a warm bed being foremost in her mind. She had just turned the shower on to get it warm and turned back to look at her reflection in the mirror when she saw the movement behind her.
Spinning around, Susan screamed as the first of Lucifer's demons made its presence known. It was slowly coming out of her bathroom wall.
Never one to completely panic in the face of danger, Susan ran out into the hallway and headed for her front door. She was nearly naked, but she didn't let that small inconvenience stop her from running outside and screaming for help. Susan was in the street sprinting for her neighbor's house when the demon caught up to her. Grabbing her from behind, the small demon stopped her in mid-stride and brutally slammed her to the hard, unforgiving asphalt.
Dazed, bleeding from a half dozen abrasions and still screaming, Susan watched in horror as the evil entity held her down with one of its grotesque hands and used the other to scratch a long, deep furrow just below her left eye with one of its poisonous claws.
The blood flowing from the wound didn't thwart the venom from entering Susan's bloodstream and within moments, she felt the paralysis setting in. She was still completely aware and able to think and reason, but her body was just refusing to obey her wishes. Susan still had feeling in her arms and legs, could still feel the pain from the cuts and scrapes, but that was all. It wasn't but a few seconds until she was completely paralyzed.
On the verge of passing out from shear terror, the last thing Susan Moore saw was the hideous creature raise both its arms as if attempting to pray. She was no longer conscious as the black, sinister looking vortex opened up just a few feet away. She never knew the demon gave a sinister laugh as it picked up her small body and carried it into the maelstrom of death.
Susan Moore would not regain consciousness again until body and soul were trapped within the confines of Hell.
* * *
At a small tavern on the other side of town, Dave Broderick was in the process of wiping off the tables after locking the doors just minutes before. Looking around as he cleaned, he saw the place wasn't too filthy and knew that if the cash count was correct, he might be able to get home before four o'clock, just in time to kiss his wife good-bye as she left for work at the parts plant. He still had to restock the beer and mop the floor afterwards, but tonight those jobs would not be too time consuming at all. There had only been about three dozen customers during his entire shift and he had used the free time to keep the coolers full and make sure the trash was picked up off the floor.
I wonder if Debbie will take the time to make herself breakfast today? Naw . . . no way. She probably got up again around two-thirty and she'll spend an hour just doing her hair!
Carrying an armload of dirty glasses back to the bar to be washed and sterilized, Dave was considering going home early and just leaving some of the work for the bartender on day shift. That's when he heard a crashing noise from inside the store room. Thinking it might have been one of his customers who had wondered off and passed out, Dave sat the glasses down on the nearest table and went to find whoever it was and show him the door.
If I find old man Rexrode in there getting sick all over the cases of scotch again, I swear I'm gonna call the cops on him this time! I'm getting awfully damned tired of...
When Dave opened the door to the store room, he knew right away he was in serious trouble. It wasn't a customer who had made the noise, it was a small, evil-looking monster. It was standing next to a huge hole in the cement floor, perhaps two feet in diameter. The noise had been made when a case of Jim Beam, that had been near the hole, had fallen.
The short monster attacked Dave with amazing speed. The bartender didn't even have a chance to yell out before the demon had picked him up and threw him against the store room wall. This nearly knocked Dave out, but not quite. The bartender was still aware as the repulsive entity walked over to where he had fallen, grabbed one of his hands, and ripped his left arm completely out of its socket. Screaming in agony as he watched his own blood spurt freely from the massive wound, Dave tried to scoot away from the demon, tried to put some distance between him and his tormentor . . . but the creature was much too fast.
Faster than the eye could follow, the demon picked up Dave's dismembered arm and began using it as a club. Over and over it beat the bartender in the head and face with his own appendage. Further punishment was unnecessary, Dave had already passed out from numerous causes, including shock, loss of blood and a concussion. Only when the demon finally got bored did it toss the dismembered arm aside and extend its long, poisonous claws. With one slash, it tore four long furrows into Dave's chest, the paralyzing venom a total waste since the victim was already unconscious.
With a raised hand, the demon conjured up a small vortex within the confines of the store room. Once the flowing mass of evil energy had stabilized, the creature then picked Dave up and carried him through.
Dave Broderick was now the newest denizen of Hell.
* * *
Officer Marcia Lewis was scrambling to get ready for work. Looking at the kitchen clock, Marcia saw that she only had thirty-five minutes to finish getting dressed, nuke a quick breakfast, pack a lunch and be at the cave to relieve Sergeant Baker.
I'm not going to make it, she thought to herself. I should have set the alarm clock a little earlier. Now, I'm gonna have to make some shortcuts . . . like not taking the time to pack lunch!
Her uniform on, Marcia reached for her holster and buckled it around her waist. She found her car keys and put them in her pocket at the same time she hit the start button on the microwave to warm up a sandwich left over from the night before. It ain't much of a breakfast, but it'll have to do.
When the microwave signaled that the food was warm, Marcia quit running a comb through her hair and went over to get her sandwich. She never made it to the microwave. The creature from Hell got to her first.
It came right out of the floor to attack Marcia. It ran head long into her abdomen and sent her sprawling across the kitchen. Shaken up by the blow, Marcia still managed to draw her weapon and fire as the creature raced towards her once again. The 9MM rounds found their mark at the center of the demon's head . . . but nothing happened. The bizarre being just kept charging towards her, black blood and a thick reddish matter flowing freely from the holes in its head.
When it reached Marcia, it plowed into her again, this time knocking her unconscious. But then, just as the ghastly beast was about to rake its claws across Marcia's face, something strange happened. The demon, its hand poised to strike, suddenly took on a bewildered look. It stared down at Marcia for a moment, shook its head in total confusion . . . and left. It simply went back to the center of the room where it had entered and melted back into the floor.
* * *
The demon attacked Christine with no warning whatsoever. One minute she was fast asleep, the next she felt the little monster landing on her chest. Coming fully awake instantly, Christine used her powerful Capstone ring and willed the creature back to Hell before it could scratch her with its venomous claws.
Mike! I've got to warn my soulmate that it's started!
Afraid that Mike may be caught off guard, Christine used the ring again and was dressed and ready to go within the blink of an eye. In less than thirty seconds from the time she was first attacked, Christine was transporting herself over to Mike's room.
* * *
With a brilliant flash of light, Christine materialized inside Mike's hotel room . . . and knew instantly she should have known better than to be worried about her soulmate.
Dressed only in a pair of slacks, Mike was sitting on the edge of his bed, lighting a cigar, and casually levitating two ugly little demons approximately three feet off the floor. "What took you so long, Soulmate?" he asked, a smile on his face that didn't fool Christine for an instant. He was plainly worried, but didn't want to let it show.
He probably doesn't want me to worry.
"I thought I'd stop off to get my nails done before coming to your rescue!" Christine replied, trying to steady her nerves. "And how come you get two demons and I only get one? Does your old pal Lucifer think you're twice as deserving as me?"
"Nope. Not at all, Matey. Just one of these little bastards belongs to me. The other I tricked into coming here when he was about to kill Marcia. It was the same trick I pulled on that terrorist a few years ago, remember?"
"Sure, I remember. But why keep the things here? Send them back to Hell where they belong. That's what I did with the one that attacked me."
"Yeah, I know. As soon as my ESP told me a demon was in my room, I used PK to subdue it, then I mentally checked your room and discovered you already had your situation handled. After I knew you were safe, I sent psychic 'feelers' out to see if I could locate any more demons around town before they sent anyone else to Hell. I missed a couple of them, but I did find one about ready to kill Marcia. I had to do something fast so I made that demon think Officer Lewis had somehow transported herself to my room. The demon meant for Marcia came here to find her and soon joined the one meant for me."
"Okay, I got all that, but . . . why? Why not just kill them and send them back to Hell?"
"Because for some strange reason, I can't read their minds. I think Lucifer gave the little bastards capabilities to block their thoughts from me this time. Simply said . . . I'm holding these two for information. At this instant, they are being tortured mentally, and they will continue to be tortured until they let me take their thoughts. My reasons? I want to find out Lucifer's damned plans. I want to know where all the demons are going and who they will attack. I also want to know how much Lucifer has increased his powers since the last time we met. Anything more than . . . oh, I'd say ten percent and we've got big trouble. These little buggers know the answers and they are going to give them to me, one way or another."
Looking over at the two demons, Christine had to control a small impulse to cringe. She knew full well what her soulmate could do to a person's . . . or demon's . . . thoughts and didn't envy what they were going through in the least. One of the creatures was squeezing its head as if in extreme pain. The other, appearing to be a little more mature, was using its own will power to fight back the pain and the mental anguish Mike was inflicting upon him. By the looks on its gnarled face, it wasn't being too successful. "How much longer do you think it'll take, Soulmate? I'm sure there are other people right about now that could use our help."
"By the way that younger one is acting, I'd say it shouldn't be that much longer now. In fact, any second... "
Suddenly Mike's expression changed. He was finally picking up the two demon's thoughts and he didn't like what he was getting. Mike raided every nook and cranny of their brains and took in everything they knew, whether it was relevant to the present situation, or not. The whole thing only lasted about ten seconds. When Mike finished, he used his awesome abilities to first, set their feet on fire, then, while they screamed and danced around in the air . . . used a minuscule amount of CRD to send them back to Hell.
You used your Cosmic Ray Discharge here? In a hotel full of people?! One little mistake and you could've destroyed the entire building!
Maybe, but I controlled it this time. Then, aloud, Mike continued with, "But forget that for the moment. We've got much bigger problems. Lucifer has taken so many souls since we've last tangled with him, his power increase is a little more than the ten percent we can handle."
How much more powerful is he this time?
His power has more than doubled, Soulmate. And he'll be here in less than an hour.
* * *
"Abe, I need to speak with you."
Knowing it was Mike Cochran that entered his tomb, the ghoul appeared immediately, without his usual flashy entrance. Abe figured if the powerful ESPer wanted to talk, it had to be about the upcoming battle and time should not be wasted.
"I AM HERE. HAVE YOU COME TO MAKE PLANS?"
"Well, you already know what you, Christine and I must do . . . but, uh... " Mike wasn't sure how, or for that matter, even if he should proceed further. What he wanted to talk with Abe about had nothing at all to do with Lucifer, the demons, or anything else involving the war that was sure to soon erupt in and around the small town of Moore's Lake. The most powerful human being alive just stood there, trying his best to decide how he could ask someone that's been dead for over a hundred years how to...
"YOU WANT TO TALK ABOUT YOUR OTHER SOULMATE. THAT IS UNDERSTANDABLE."
"I thought I was blocking my thoughts rather well," Mike said with a sigh, shaking his head in disgust. "I don't see how you picked them up so easily."
"I DID NOT HAVE TO READ YOUR THOUGHTS TO KNOW YOU ARE TROUBLED ABOUT DARLENE. I CAN SEE IT IN YOUR FACE."
"Well, all right then . . . yes, the thought of having a soulmate and leaving the relationship completely up to her bothers me a little. Why do you insist that Christine and I not approach her and tell her what you've told me a few hours ago? Why must Darlene decide on her own to start the relationship all over again? Can't we at least tell her what we shared in the past? The girls is missing out on so much!"
"DARLENE IS ALREADY AWARE OF THESE FACTS. I TOLD HER RIGHT AFTER I TOLD YOU. BUT MY DECISION IS FINAL. DARLENE MUST MAKE THE CHOICE WITHOUT ANY OUTSIDE INFLUENCE." Abe saw the look of depression on Mike's face and knew he had to do something about the ESPer's attitude. Mike's powers had to be at one hundred percent efficiency if Lucifer was to be defeated. "MICHAEL, WITH YOUR MENTAL CAPABILITIES AND YOUR RESTORATIVE POWERS, YOU WILL BE OF THIS EARTH FOR A VERY LONG TIME. DARLENE WILL ALSO. THE REST OF US WILL NOT. EVEN I SEE MY OWN END IN THE FUTURE. THERE WILL COME A TIME WHEN EVERYTHING WILL BE AS IT SHOULD. BUT UNTIL THAT TIME... "
"All right! Enough about the future, already! You know damned well I'm not allowed to know that stuff." Mike's brilliant mind forced itself to forget about Darlene for the moment and decided it best if he made sure Abe understood one final thing about their battle with Lucifer. Now remember, Abe, Lucifer might very well be too afraid to come with the first wave of demons. He'll probably come as soon as the hard part is over and we are weakened. We can't fall for that trap. We can't fight him here, it would do no good. We have to defeat him in Hell where his powers aren't as strong. We defeat him there and he'll be trapped. If he somehow gets past us down there and makes his way to Earth, and this is assuming any of us survive, we must somehow get him back to Hell before we resume the battle and defeat him.
"I HAVE UNDERSTOOD THAT FOR DECADES."
The fact that Abe voiced his words instead of replying mentally so Lucifer couldn't pick them up told Mike the ghoul was finished talking. "All right. We're straight on everything. I'll see you at the meeting." Mike then gave Christine a mental request that she transport him back to the hotel. As he vanished, his only thoughts were of Darlene and the whiskey and soda he was going to make for himself as soon as he got back to his room.
* * *
Darlene, sat helplessly as she watched Gail going berserk inside her steel cage. The demented vampress was not only rattling away at the bars and mesh, but was screaming and beating her head and shoulders against the door in an attempt to break free. With the very first signs of Gail's hysterical rage, Darlene had tried entering her cage to calm her down, but quickly decided against it when her cousin tried to attack her while the cage door was only partially open. With that, Darlene quickly slammed the door shut again and made sure it was securely locked.
Darlene couldn't blame her cousin, of course. Even Gail had to know by now that the devil was on his way, if not already somewhere nearby. With a sigh, Darlene rose and walked over close to the cage once again.
In a soft voice, the beautiful vampress told her cousin, "Gail, you'll be all right. I promise you that I'll do everything in my power to stop Lucifer and his demons from taking you to Hell. And I won't be the only one protecting you. There's a man in town . . . a very special man. He has powers like we've never seen before, Gail. I'm sure he won't let anything happen to you."
Darlene's words of comfort were lost on the feral creature. From the wild expression on Gail's face, it was clear she hadn't understood one word her cousin had said. Darlene was about to try again when something very strange happened . . . a flash of light so brilliant, Darlene's first thought was that sunlight had somehow made its way into her cavern.
Scared at the prospect of burning up in the sun, Darlene quickly closed her eyes and screamed. A moment later when she realized the flash of light couldn't possibly have been the sun, she slowly opened her eyes and stood in shock at what she saw.
Not ten feet away from where Darlene stood was Captain Long. He was only partially dressed in jeans and an old t-shirt. His feet were bare and his hair looked as though it had never seen a comb in its life. The expression on his face told the vampress he was just as confused as she was.
"Roscoe, what . . . how did you get here?!"
"I don't really know, but if I had to guess, I'd say your friend the 'ESPer' had something to do with this. Besides Abe, him and that woman he travels with are the only ones around that I know of that could... "
The captain never got a chance to finish. He was interrupted by another flash of light. This time it was Marcia Lewis who had appeared out of nowhere. Standing next to Captain Long, the female officer was in full uniform and had her weapon in her hand instead of in its holster.
Before Marcia could even get a word out, there was another flash of light. Then another, followed by several more. Before long, the entire assault team along with Charles Peterson were standing inside Darlene's cavern, most all of whom were in various states of undress. With the exception of Marcia Lewis, only Sergeant Baker was in full uniform.
A second later, that changed also. Another flash and suddenly everyone was completely dressed. The looks on everyone's faces were of total fear and astonishment.
It was Captain Long who first spoke up. "Okay, people. I can only assume it was Michael Cochran who transported us all here. There must be an awfully good reason for him doing this, so I suggest we set up defe.... "
"There's no need to take up a defensive posture, Captain. Nothing is going to bother us for at least a few more minutes," Mike said from the other side of Vampra's cage. "Christine and I are both over here. I'll be with you folks in half a minute to explain all this. Right now, I'm working on something.."
Captain Long hated the idea of his thoughts being invaded by another human being. How else could he have known that I was going to order everyone to prepare for an attack? Hell, for all I knew, Lucifer could've been on his way to take our souls! he thought to himself with a little embarrassment.
"No need for embarrassment either, Captain. Besides, there's someone here I'd like you all to meet." Coming around from the back of the reinforced steel mesh cage, Mike and Christine were leading a very lovely and very serene young woman between them. It was Vampra, now appearing to be very composed as she looked at her cousin with a loving smile.
"Gail!" Darlene ran to her cousin with arms wide. "You're okay!"
"Darlene, I... " That was all Vampra had time to say before her cousin grabbed her and gave her a great big hug.
Everyone watched in joy as the two girls shared an embrace that was decades overdue. They saw Darlene's face turn towards Mike and everyone also noticed Darlene giving him a wink with one of her tear filled eyes. But only Mike heard what her mind was saying to him.
Michael Cochran, you are the best human being who ever roamed the Earth. Gail and I owe you so much. How can we ever repay you?
Just continue being the sweet creature you are, little lady, and never let evil get the best of you. That's how.
"How did you do that, Cochran?" Captain Long asked. "Vampr . . . er, Gail was... I mean everyone thought... "
"Years ago, Gail went through a traumatic experience, Captain. Her mind retreated from reality and, over the years, more or less just got lost in the shuffle. All I did was go into her head and help her find her way back out."
"But... "
"There's no time for this right now, Captain. In a matter of minutes, Lucifer's hordes of demons will be arriving in Moore's Lake en masse. I want you all to pay very close attention now. Abe, Christine and I have come up with a plan, and you all have some important roles in it." Looking to the left, Mike said, "Abe, do you want to go ahead and explain?"
No one had seen Abe enter Darlene's cavern, but on the other hand, no one was surprised that he was already there. The assault team members were getting to know the ghoul all too well.
"LOOK ON YOUR FINGERS," Abe said in that deep voice that seemed to originate from the darkest depths of Hell. "WITH MY ASSISTANCE, CHRISTINE USED HER CAPSTONE RING TO MAKE DUPLICATES. EACH OF YOU, INCLUDING DARLENE AND GAIL, HAVE ONE. YOU WILL USE THESE POWERFUL RINGS TO FIGHT OFF THE DEMONS WHILE MICHAEL, CHRISTINE AND I ARE AWAY. DO NOT ATTEMPT TO USE THE RINGS FOR ANYTHING OTHER THAN FIGHTING DEMONS. DO NOT USE THEM TO TAMPER WITH TIME AT ALL. DO NOT USE THEM FOR YOUR OWN PERSONAL GAIN. IF YOU DO NOT WISH TO WITNESS MY WRATH, DO NOT DISREGARD THESE DIRECTIVES."
This got everyone wondering just how powerful these rings actually were. Looking down to examine their new gifts, each were slightly mystified by the large, pink stone embedded in the band of pure gold. It looked somehow transparent and seemed to have a cross that floated around inside as the light hit it from different angles.
"How strong of a weapon are these?" Captain Long asked, not knowing if it would be Mike, or Abe who would be the one answering. He waited a few seconds while the omnipotent beings of Abe, Mike and Christine appeared to discuss the issue with their minds. In the end, it was Mike's soulmate who answered.
"Captain, Abe and I made nine duplicates of my ring. To answer your question, we've sacrificed a little less than one percent of my ring's energy and divided that power into each of your rings. There is enough... "
Soulmate, this is a pretty smart group. Each of them have already figured out that it would take nearly a thousand rings like the ones they have to equal the power in yours. They are worrying that their rings won't be powerful enough to kill the demons. Marcia Lewis is especially worried.
Mike's thoughts to Christine were fully understood and without missing a beat, she changed what she was going to say to put all their minds at ease. " ...power in each of those rings to destroy any demon. Don't worry about that. If you want a comparison, each of your rings hold more power than the total energy output of the sun over a two week period. To use your rings, all you have to do is concentrate on what you want and give it a mental command to obey. I want you all to try that now with this little exercise I'm going to give you. First, I want you all to think of that soccer field on the west side of town. Now, command the ring to transport you there. Do it now."
Christine sent a little smile in Mike's direction then commanded her own ring to transport her as well. As she vanished, she noticed, however, that none of the assault team members, or for that matter the two vampires, had dematerialized as yet. When Christine appeared in the center of the soccer field an instant later, she commanded her ring to create a lounge chair for her to sit on while she waited. She hoped it wouldn't be a long wait. There were still a few things these people needed to learn. Lucifer's army of demons could start arriving in town at any moment.
* * *
After the last of the group, Charles Peterson, had finally transported himself to the soccer field, Mike looked over to Abe and noticed the ghoul's apprehension. Mike figured as powerful and omnipotent as the immortal entity was, as much as he knew about the future and as often as he had used time itself as a means of getting things done, Abe must surely know something that he didn't. The ESPer also knew that Abe had a firmer grasp of the situation than he did, but Mike still thought it best if he said something to boost the ghoul's confidence. "Abe, did you notice that none of the group asked why we wouldn't be there helping them to fight the demons? That's a fine bunch of people you call friends. Their faith in you is amazing."
"YES. THEIR FAITH IN ME IS AMAZING. THEY DO NOT REALIZE, HOWEVER, THE TRIALS WE ALL MUST FACE. MICHAEL, YOU HAVE BEEN TO HELL. I HAVE NOT. THE TRANSITORY REALM I CALL HOME IS NOTHING LIKE WHERE WE MUST GO SOON TO FIGHT LUCIFER. MY REALM IS A TEMPORARY ABODE FOR THOSE WHO KNOW THEY WILL EVENTUALLY GO TO PARADISE. HELL, ON THE OTHER HAND, WILL BE FULL OF LOST SOULS WITH NO HOPE WHATSOEVER . . . A DOMAIN OF ETERNAL DAMNATION AND NEVER ENDING ANGUISH. I'VE FELT YOU PRYING INTO MY THOUGHTS AND YOU KNOW I AM DISTURBED ABOUT SOMETHING. UNTIL NOW, I'VE NOT REVEALED TO YOU THE REASON I AM CONCERNED. I WILL TELL YOU NOW, MICHAEL COCHRAN. SOMEONE I CARE ABOUT WILL SOON BE LOST IN THAT ILLIMITABLE, AGONIZING PLACE . . . AND I KNOW OF NO WAY TO PREVENT IT."
"We'll cross that bridge when we come to it, Abe. It's all we can do. And besides, you know full well that when it comes to time variations, nothing, I repeat . . . nothing is set in stone. Like I said, whatever happens, we can handle it when the time comes. We just have to have faith in the Big Guy upstairs. Right now, I suggest we get ready. Christine just told me that she's almost done with the instructions and giving the team members their assignments. She should be returning within thirty seconds. Also, my ESP is telling me the first major group of demons are now here. It's begun." Mike should have let it go at that, but the moment just seemed all too right for a little humor. He's found over the years that a stupid little joke, the dumber the better, eases tensions better than the best of common sense. So, with this in mind, he said, "Besides, if one of us does wind up in Hell, it may not be so bad. I'll just ask Christine to use that ring of hers and send down an air conditioner... "
Needless to say, Abe just ignored the comment.
* * *
With a full curfew in effect until the ordeal was over, there were no pedestrians and no vehicular traffic at all in the town of Moore's Lake. Every precaution had been taken to ensure the safety of the people. Charles Peterson, by far the oldest of Abe's trusted friends, was at the police station locating and directing team members toward trouble spots. In addition to the station's normal sources of information, he was using his ring to help him locate demons. The whole office was now a holographic projector that portrayed an image of the city. This was overlaid with grid coordinates and street names, and every time a demon would appear, a flashing red light would appear disclosing its location. Peterson would then relay this information to the other team members via the ring itself, which also now acted as a transmitter. He was hoping the setup would be as effective as Christine promised it would be. So far . . . everything was working out just fine.
At the corner of Elm and Arcadia, Captain Long and his team members stood shoulder to shoulder as they watched the hoard of demons approach. The captain estimated over two hundred unearthly fiends bearing down upon his small group of mere mortals, consisting of Sergeant Baker, Marcia Lewis and Marc Lamas. With such a small number against so many demons, no member of the team could afford to make a mistake. There would be no thoughts of mercy where these demons were concerned. The defense of the town was at stake, the souls of its people. Each member of the assault team had instructions to destroy the demons in any manner they could. No exceptions.
Looking up to offer a small prayer to his maker, Captain Long noticed the dark, overcast skies. Funny, he thought, glancing at his watch. The sun should be up by now. Just a couple of hours ago, the weather report said it was supposed to be clear today. What's with all these clouds? Looking up again, the captain wondered if the ominous looking dark sky was a sign of Lucifer's presence?
It was nearly time for the war to begin. The horde was now only about a hundred yards away. "I want this to be as big a surprise for them as we can make it, everybody. So don't fire until I do. I want them close. That way, they'll have less of a chance to get away once they see what's in store for them. Get ready . . . ready... "
* * *
Darlene and Gail had a different assignment. Their job was not to take on hordes of demons at once, rather the two lovely vampires were using their mental capabilities to find lone demons that were in the process of capturing the helpless souls of the town's people. So far the plan was working out fairly well. They had located thirteen demons that had suddenly appeared inside various households, and had managed to save twelve of the intended victims. It was their first attempt at saving a mortal that had failed . . . neither of the two lovely girls were used to the power of their rings and both were afraid of doing more harm than good by using them. When the time came to use the rings to destroy the demon, they had both hesitated . . . and that moment of indecision had caused the death of a small child. That demon was eventually destroyed by the power of Darlene's ring, but not before it had torn a ten year old girl named Betty Fleagle to shreds. After that, the two vampires fully understood Christine's instructions to show no mercy to the demons. None at all.
Using their gigantic leathery wings to ride the air currents high above the town, Gail said, "You know, Darlene, this would work out better if we split up. We could cover twice as much ground and... "
"We've been over this, Gail. Remember what I told you about my conversation with Mike? Both you and I are more easily controlled by Lucifer than mortals. If we split up and Lucifer manages to get to Earth, he could take over one of our bodies and use one of these rings Christine gave us to enhance his powers all that much more. I'm thinking that if we stick together, we can watch each other's back so to speak. Mike, Abe and Christine all agree. We stick together."
As Gail's mind picked up on another demon about to attack a mortal a block away, she signaled Darlene to follow and folded in her wings so she cold dive towards the house with more speed. Sending out a mental feeler again, Gail knew there was plenty of time to destroy this demon. The ugly beast had appeared inside the kitchen, and the owner of the house, an invalid confined to his bed, was upstairs.
Using her wings to hover a hundred feet above the structure, Gail ordered the ring to transport the little demon out of the house and up to where she and Darlene were waiting. "You're awfully fond of Mike Cochran, aren't you, Cuz?" Gail asked as the demon appeared in front of them. "What's the story with you and him?"
Darlene was about to use the ring to blast the gruesome little fiend back to Hell when she got caught off guard by her cousin's question. Seeing the uncertainty in her cousin, Gail gave her own ring a mental command and instantly turned the demon's body to pure oxygen, thus making the Earth's atmosphere just that little bit more unpolluted. She figured that some good should come from Lucifer sending these filthy creatures to steal all their souls. "Well? Are you afraid to answer, or what?"
As the two flew off to find another of Satan's followers, Darlene considered the question and finally said, "I think we're soulmates, at least that was what was explained to me by Abe when I asked him about it. He said in some past life, Mike and I were 'together' just as he and Christine are now. In fact, I understand Christine was part of our lives back then also, but... " Darlene let it drop there. Not only was she unsure exactly how she felt about Mike and Christine, she didn't even know if she should intrude on the relationship between the two soulmates. Unquestionably the two shared something special, and to Darlene's way of thinking . . . three was a crowd.
"You're in love with him, aren't you? Don't try to deny it, I can see it in your eyes and in your deepest thoughts. Are you going to tell him?"
Darlene didn't have a chance to answer. Her thoughts suddenly picked up two more immortal entities in very close proximity. Gail, they're right behind us! Immediately using her ring to surround her and Gail in a protective bubble of pure energy, Darlene spun around to meet this new challenge. The beautiful vampress screamed when she saw what . . . who . . . was attacking.
* * *
Their goal of destroying stray demons around town was the same as that of the two beautiful vampresses, but Jake Anderson and Matt Perez were using an entirely different method to locate the creatures from Hell. They were getting their information from Charles Peterson down at the station. Whenever they would hear his instructions coming from their rings, they would transport themselves to that location and then use their rings again to destroy the ghastly little savages. The idea had seemed too simple when they had first heard it and both had their doubts if it would work. However, after nine confirmed contacts and kills, both had to admit that Christine's plans had some merit.
"You guys okay? Report!"
Having just saved a helpless old woman who had been watching television in her home, the two young men had failed to relay the news to Peterson fast enough. This was the third time the reporter had called to inquire about their safety since the satanic onslaught had begun.
"We're fine, Mr. Peterson. Quit worrying about us so much. These rings are so powerful, nothing is gonna happen to us," Matt replied. "Just tell us where to go next."
"There's a demon at a house on the corner of Fifth and Main. Southeast corner. Now scoot! Another one just appeared two blocks from there!"
"Gotcha! On our way."
* * *
"Fire!"
Instantly, four beams of pure cosmic energy tore into the horde of the hideous creatures, many of their bodies, or at minimum, limbs, being atomized the instant the powerful rays touched them. Out of the estimated two hundred demons that had constituted their main force, perhaps now only fifty had survived, or went without serious injury. Not wanting to be caught in another energy wave, they all immediately split up and ran off in different directions. This was what Captain Long had been afraid of. Now it was going to be much more difficult to track them all down. It was also going to be much more dangerous.
"Marcia! Destroy the ones that are laying around wounded, then join me! I'm going after the ones that went to the northern side of town. Sam, you and Marc hit the south!"
Captain Long didn't run off as fast as the sergeant and Marc Lamas did, he had to go slower so Marcia could catch up to him. However, it still didn't take him long to find his first demon. It was hiding behind a dumpster located behind a restaurant, waiting to ambush the captain as he went by. The demon's only mistake had been when it shifted its weight in preparation for a leap unto the captain's back. From the corner of his eye, Long had seen the movement and, knowing that with the curfew in effect there should be no mortals on the streets at all, fired blindly into the shadows. It was a desperate gamble, but one that paid off. The ring's energy ripped the small demon in half, its remains vanishing as it reverted to its spirit form and went back to Hell.
Okay, that's one! Only about forty-nine more to go! Please, God . . . don't let any of these little bastards kill anyone else! Please! Suddenly, there was a flash of light and an explosion from behind and above the captain. Spinning, he raised the ring to dispose of the new threat . . . then stopped just short of firing.
"Marcia!"
"Sorry about that. There wasn't any time to warn you. One of the demons came leaping down from the roof of the restaurant at you. I had to make my ring shoot an exploding fireball at it. As fast as it was falling, I didn't think I could hit it in time with just a beam of energy."
Captain Long took a deep breath to calm his nerves and motioned Marcia closer. "Thanks. I owe you my life with that one!"
"Think nothing of it, Cap. Just remember this when promotion time rolls around!" With a little giggle, Officer Lewis shimmied around her boss and began leading the way as they searched for more demons.
* * *
I'll never get used to this, Mike thought as he, Abe and Christine roamed through Hell, searching for the ruler of the dark and evil realm. The moans coming from all the tormented souls, the cries of anguish, the pleas for mercy... It's enough to drive anyone nuts!
I SUGGEST YOU DON'T LET IT, Abe said in his thoughts to Mike. THE THREE OF US TOGETHER STAND A GOOD CHANCE OF DEFEATING LUCIFER DOWN HERE. IF ANYTHING HAPPENS TO ANY ONE OF US, THE OTHER TWO WILL NOT BE VICTORIOUS AND WILL BE TRAPPED DOWN HERE FOR ALL ETERNITY.
Mike knew that statement was true. It had taken the combined powers of all three of them to make the journey to Hell. First, Mike had to release the spirits of himself and Christine. Abe then transported their spirits . . . souls . . . to the edge of damnation. Then Christine had to use her ring, which somehow Abe had brought along, to force open the barrier that surrounded Hell. This barrier was the only thing preventing all its residents from departing. Only one being in all the universes easily controlled that barrier, and that was Lucifer himself. Since Christine was able to put a slight breach in the barrier with her ring, Mike assumed that God could also control it if He wished, but He obviously chose not too.
Smart guy, Mike thought to himself, watching a demon wander about aimlessly. This place isn't for the good, it's for the damned . . . and the damned ugly!
Soulmate, how did you stand it down here by yourself last time? Just the atmosphere of this place is worse than any nightmare I've ever had!
I was younger, more arrogant and dumber all those years ago, Christine. I didn't know any better.
Christine was about to reply when Abe's spirit suddenly stopped and turned towards them. WE ARE TOO LATE. LUCIFER HAS ALREADY DEPARTED HELL. HE MUST BE ON HIS WAY TO EARTH!
Visions of Lucifer running amok in Moore's Lake terrified the three of them. They all knew that Captain Long's team would be no match for the ruler of Hell. Lucifer's powers would be far too great for them, regardless of the rings they now carried. Once he took mortal form, Lucifer would be able to draw upon the strengths of all the souls in Hell. The only chance of survival for the people of Moore's Lake now depended solely upon the three of them getting back to Earth before Lucifer had a chance to do too much carnage.
* * *
Hearing Darlene's scream, Gail spun around as she hovered a hundred feet off the ground to see a being so frightening, so terrifying, she nearly passed out from shear fright. It was Lucifer himself, wearing not a stitch of clothing and showing no sign of a gender on a body that must have been over seven feet tall. Powerful muscles rippled his torso and abdomen, and these were covered by the strangest of skin that was so thin, it was nearly transparent. Atop his oval shaped head were a set of sharp horns that measured nearly two feet from point to point. But it was his eyes that captivated Gail. Set into a nefarious looking face, it was as if they were sending her a message . . . a message telling Gail that he owned her . . . body and soul.
At Lucifer's side was a demon. This one was much larger than any Gail and Darlene had seen thus far. They both knew that this had to be Lucifer's personal servant.
The protective energy barrier Darlene had placed around them did nothing to stop the advances of Lucifer. He and his servant crashed through it as though it were tissue paper. While the demon attacked Gail, the king of Hell grabbed Darlene and spun her around in his massive arms. As she was being held from behind, Darlene used her ring to send a massive energy burst into the head of Lucifer, but it too had no effect. Then, Satan opened his mouth wide to display a immense set of canine teeth. He was about to drive these fangs into the soft flesh of Darlene's neck when the totally unexpected happened.
Lucifer's entire, massive body blew apart in millions of small, luminous particles.
"Lucifer, you son-of-a-bitch! Leave her alone!" came a man's voice from somewhere below. "And you! Get the hell outta here before I do the same thing to you!"
With its master disintegrated, the demon looked down to see who had issued the command and turned Gail loose. It flew off, both Gail and Darlene losing sight of its black body amidst the darkened sky. The two vampires looked down to see who their savior was and saw that it was Mike Cochran, standing on the ground below with Abe and Christine. From Mike's hands emanated a strange glow that told the two gals that he had somehow just destroyed the ruler of all that was unholy.
"Get down here! Hurry! This ain't over yet . . . not by a long shot!"
"But, Mike, he's destroyed. Dead!" Darlene said as she and her cousin landed safely on the ground next to the three powerful beings. "What's to worry about now?"
"You think Satan is dead, huh? No way, Darlin'.. He'll be back in no time. All I had time to do was... "
"MICHAEL!"
Mike's reaction time was incredible as he used his ESP powers to erect a Psycho Kinetic shield around the small group. Before it was even fully energized, a tremendous explosion rocked the entire block. A small factory had crumbled, trees were uprooted and two houses in the area lost their rooftops, but Mike and the others were unharmed inside the energy bubble. "Thanks for the warning, Abe. Christine, maintain the shield around you and the girls. Give us some support if you can. Abe, let's get that bastard!"
The first step was to locate Lucifer. Knowing Mike would retaliate for the surprise attack, the devil had fired the energy burst while in an invisible state. The blast had come from above . . . but where? His mind spinning with different possibilities, Mike just happened to notice a ruptured natural gas line from the demolished factory. This gave him an idea. Using PK once again, Mike soon had the air high above them saturated with the gas. Abe, seeing what Mike had in mind, ignited it with some unknown force. Instantly, the dark sky transformed into a gigantic sea of fire, the sudden light causing nearly everyone on the ground to cover their eyes. But Mike and Abe knew what to expect. They searched the sky for Lucifer's silhouette and for the briefest of moments, it became visible.
The ghoul let loose an energy wave in the direction of Lucifer at the same time Mike's mind shot out CRD, the most powerful and dangerous weapon at his disposal. Both forms of energy hit Satan full force and he went plummeting to the ground. Shaken, Lucifer rose to his feet and tried to blast Abe and his human ally with a inferno of radioactive flame. Abe somehow stopped it from reaching them and directed it straight back to the devil. But Lucifer just laughed as he took a deep breath and inhaled the fire.
"WILKES, YOU FOOL! DID YOU REALLY THINK THAT FIRE COULD HURT ME?"
"NO. BUT THIS WILL . . . JESUS, MARY, GOD!"
Lucifer could not stand to hear the names of the three Heavenly entities. He screamed in torment and put his hands up to his ears.
Mike took advantage of Lucifer's weakened state and fired another burst of CRD. This time Satan staggered, and after Abe had followed suit with another blast of his energy wave, the devil screamed and went down to his knees in agony.
"You should have stayed in Heaven, Lucifer! God would have loved you the same as He loves us!" Firing again, Mike continued with, "But ooooh, nooo! You thought you were too good . . . too god-like yourself . . . to merely follow! You had to defy the Lord! You defied God, Lucifer! And look what it got you . . . on your knees before the humble likes of me!" Mike fired again, and again, knowing the names of God and His followers were weakening Lucifer and making him vulnerable to the mortal powers of ESP. With another blast of his CRD, Mike had Satan defeated, ready to be sent back to Hell where he would be trapped for a thousand years.
But it was Abe's immortal powers that finally caught on that something was very wrong. "MICHAEL, THAT IS NOT LUCIFER. IT CAN NOT BE! IF FOR NO OTHER REASON THAN THE FACT WE DEFEATED HIM TOO EASILY! THAT MUST BE... "
"CORRECT, WILKES! THAT IS MY SERVANT!"
The voice came from behind Mike and the ghoul. It was Lucifer, the real Lucifer . . . standing beside the slain bodies of Christine, Darlene and Gail. He had silently killed them while Mike and Abe had been distracted with the demon.
"You bastard! I'll rip your fu... " Mike had taken just one step towards Lucifer when he suddenly found himself frozen. He couldn't move, couldn't speak.
Mike's words and actions were cut off by Abe, who saw no point in his ally getting himself killed while he was in a fit of rage. The ghoul knew, of course, how Mike felt. He had a similar loss himself over a century ago. Anger didn't help then, it wouldn't help Mike now. THINK, MICHAEL. USE YOUR HEAD. LUCIFER THINKS YOU'RE HELPLESS NOW, BUT YOU AREN'T. WHEN THE TIME IS RIGHT, USE YOUR ESP AND HELP ME DEAL HIM A SEVERE BLOW. WEAKEN HIM SO HE WILL LEAVE. WE NEED THE TIME.
Mike's abilities were severely hampered when he was angry and, with the death of all three ladies, his powers of reason weren't doing that well either. He'd just lost two soulmates and an ally in this war against evil. Looking over at Lucifer, who was smirking and obviously conversing mentally with Abe, Mike noticed that he had taken precautions against mankind's most valuable weapon against evil. Lucifer, in this present form, did not have any ears. Mike could quote scripture to the devil for a year and it still wouldn't do any good. What would Christine tell me to do at a time like this? Looking at his soulmate's body, Mike would have given anything to trade places with her. Why did it have to be her, God? Why not me? Then, still thinking of Christine, Mike got an idea. He knew it would work. All he had to do now was wait for when the time was right. Trouble is that time probably wouldn't come for a few hours or so, he thought. We have to take care of the damned devil right now, first!
Abe suddenly stopped mentally conversing with Lucifer and raised his arms to let off another one of his energy bursts.
That's when all hell broke loose.
With PK, Mike raised his dead soulmate's hand, the one with the Capstone ring. He aimed it at Lucifer and gave the ring a distant mental command to fire its most powerful bolt of cosmic energy. At the same instant the ring fired, Mike shot his own burst of CRD. All that energy, along with Abe's, hit Lucifer together. It didn't kill the ruler of Hell, of course, no form of raw energy was going to destroy a creature that was as nearly as powerful as God. But it did cause him to lose his solid form, put him back into his phantom state. And in this form, his powers were impeded greatly because he couldn't draw upon the strengths of all the souls in Hell.
Sensing his vulnerability, Lucifer quickly vanished until his powers could be replenished.
The moment Abe released Mike from his frozen state, he ran over to the dead body of Christine. He picked up her lovely head and cradled it in his arms. I'm so sorry, Soulmate. God! I'm so sorry! I fell for one of Lucifer's oldest tricks . . . deception . . . and it cost you your soul!
"MICHAEL, TAKE THE RING. YOU WILL NEED IT TO AVENGE YOUR TWO SOULMATES."
Yeah, two soulmates... Still holding Christine's head and shoulders, Mike looked over to gaze at the lovely face of Darlene. Even in death, it still holds on to beauty...
Mike looked up to the Heavens and screamed in an effort to dislodge all the anguish built up inside him. Temporarily losing control of his mental powers, wave upon wave of PK energy flooded the area. Buildings were jarred, trees bent over as if in a tornado, even the clouds above were being scattered.
Abe, trying to control the destruction, knew it was no use trying to comfort the human. Instead, the ghoul concentrated on instantly repairing whatever Mike's powerful mind destroyed.
Finally, it was over. Regaining a minimum amount of composure, Mike took the Capstone ring from the finger of his dead soulmate and slipped it as far as it would go upon his little finger. Then standing, he said, "Hold their bodies in stasis somewhere, Abe. Don't let them even begin to decompose. This isn't over yet, because I've got an idea. I'm gonna make that bastard pay for this!"
End of Part II
(The conclusion will be posted within a few weeks)

---
E-Mail the author at: CarlMerritt@compuserve.com