A Will to Kill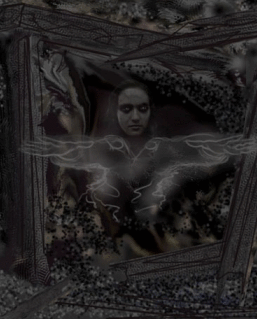 By Carl R. Merritt
It was one of those days when life seemed to stand still in Moore's Lake. Nothing much appeared to be happening at all. Charles Peterson, the town's top reporter and Abe's only real friend, decided to take advantage of the slow day and see the ghoul. There were some matters for the paper that Peterson wanted to discuss, and this looked to be the perfect opportunity.
Crossing the small town on foot and making his way through the cave, Peterson stopped for a few minutes to talk to the police officer on duty, Marcia Lewis. Like most days, the job of guarding the two vampires was pretty boring and Marcia was happy for the distraction.
After a few minutes of shooting the bull with the lovely blonde, the older man said his farewells and walked the twenty feet over to the tomb. Pulling open the heavy tombstone, the reporter stepped over the now familiar skeleton and called out to his friend.
"Abe! You in?"
Normally, the ghoul would have appeared in a swirling array of light and stars. However, seeing no need to intimidate someone he called a friend, Abe simply materialized slowly a few feet in front of Peterson.
"YES. WHAT IS ON YOUR MIND?"
"Well, if you've got the time, old friend, I'd like to discuss a few things with you. From what you've told me before, I know you don't mind me doing an article about you on occasion, but I wondering just how much to tell the people of Moore's Lake. I'm sure you don't want to . . . " Peterson stopped when he saw the ghoul turn away to face the opening of his tomb. Right away, the reporter knew that any hopes of a peaceful conversation were now out of the question. Obviously, someone was coming to see Abe about getting a wish granted. Peterson wondered if he should stay, or be on his way. He wasn't sure he wanted to watch as Abe made a fool of, and ultimately punished some dumb mortal.
Able to read the reporter's mind as easily as if it were one of his newspapers, the ghoul replied to the unasked question by saying, "YOU ARE CORRECT, MY FRIEND. SOMEONE IS COMING TO SEE ME. AND THAT YOUNG GIRL KNOWS THAT COMING HERE IS WRONG. I DO NOT WISH YOU TO LEAVE, HOWEVER. THERE ARE SOME THINGS IN HER MIND IN WHICH I DO NOT UNDERSTAND AND YOUR THOUGHTS WILL GIVE ME THE ANSWERS I NEED. YOU CAME HERE FOR A STORY AND YOU SHALL SOON HAVE ONE, ALTHOUGH NOT THE STORY YOU WANTED."

Lisa and Kathi knelt behind a large boulder inside the cave leading to the tomb and waited for the guard to leave, or in some way get distracted so they could proceed without being stopped. Waiting for the guard to leave was just an excuse, of course. Both girls were scared out of their minds.
First, it was the bats. Just after they had entered the cave, the huge brown creatures had attacked, leaving both of the sixteen year old girls with cuts on their arms and faces. Next, it was the cobwebs and the darkness in general. Neither had thought to bring along a flashlight and they found themselves tripping over every conceivable nightmare they could think of. The worse of which was a set of old, decaying bones . . . obviously human.
Kathi, a goth gal whose main goal in life was to turn eighteen so she could frequent Gothorama, the only gothic oriented nightclub in Moore's Lake, thought the bones were cool at first. But as they hid behind the boulder, Lisa's next words put an end to that.
"By this time tomorrow, someone could be tripping over our skeletons, you know. We have no idea what's going to happen in there."
This was the first time Kathi actually thought about the prospect of death. Sure, as a goth gal she had pretended to embrace the afterlife, but it never really seemed like a possibility before now.
On the other hand, however, if she got her wish there would be no further worries of death. That was the whole idea to her going with Lisa to the caverns. "We stick to the plan, Lisa. We've come this far. We've got to see it through."
Reluctantly, Lisa agreed and, after taking a deep breath, silently stood and walked alone towards Abe's tomb.

Charles Peterson soon heard Marcia's voice outside the tomb as she questioned the new visitor. Understanding that she was to prohibit no one from seeing the ghoul for any reason, Marcia, against her better judgment, allowed the girl to pass.
Seconds later, the face of a pretty young redhead appeared in the doorway, the rest of the girl still hidden behind the thick stone wall.
"Is this w-where I make a request?" Lisa asked, stepping out from behind the wall.
Peterson studied this girl and came to the conclusion that she couldn't have been more than sixteen . . . maybe seventeen . . . years old. She was dressed in a maternity outfit and immediately, Peterson had a good idea of what her wish was going to be. A knot began to form in the reporter's stomach and he wished like hell that Abe had not requested him to stay. He didn't need to see the ghoul vent his wrath on a young girl whose only mistake had been an error in judgement approximately seven or eight months ago.
"YOU HAVE COME TO THE RIGHT PLACE, LISA. I WILL HELP YOU."
This surprised Peterson. As a rule, the last thing Abe ever did for his guests was to help them. Oh, there had been times when the ghoul would surprise everyone with his generosity and kindness, but those times were few and far between. Another thing that surprised the reporter was the fact that Abe's voice seemed to be a little less harsh as he talked to this little soon-to-be-mother.
"I don't want this baby," the girl said, shaking like a leaf.
"EXPLAIN."
"My boyfriend left me last week and now I realize that I can't take care of the baby by myself."
Peterson felt a presence in his mind and knew the ghoul was searching his thoughts for information. That suited the reporter just fine as he began thinking of different alternatives for the girl besides abortion.
"HAVE YOU CONSIDERED PUTTING THE CHILD UP FOR ADOPTION?"
"Can't do it, sir. There are no adoption agencies in Moore's Lake, it's too small to carry one. And with your orders that none of the town people leave... "
Abe felt remorse at being partially responsible for this girl wanting to lose her child. He took a second to look into the future at the possible life of the unborn child and saw that if it was allowed to live, the child would grow up to be a wealthy and respectable citizen of Moore's Lake. That child would also be responsible for developing a vaccine that would save many lives in the future...
But none of that would happen if Abe took the wrong action now.
"Even if I could leave town, I can't have a regular abortion now because I'm too far along. And I considered using that new drug, RU 486, but it's too late for that also. Anyway, I understand that it's far too dangerous to use. So what choice do I have other than have you take away my unborn child?"
"YOU CAN HAVE THE CHILD, RAISE HIM TO BE THE PERSON HE IS MEANT TO BE," replied the ghoul.
"I believe in pro-choice, don't you?"
Once again, Abe invaded Peterson's mind for the answers he sought. Once he had them, he said, "OF COURSE I BELIEVE IN A CHOICE. EVERYONE HAS A CHOICE IN EVERYTHING THEY DO. YOU MADE YOUR CHOICE SEVEN MONTHS AGO. AT THAT POINT, A DECENT HUMAN BEING WOULD HAVE THEN TAKEN RESPONSIBILITY FOR HER ACTIONS. WHY DO YOU WISH NOW NOT TO DO SO?"
"Please, sir! You've got to help me! I don't have the money to take care of a child! Don't you understand?"
It was then Abe decided what he must do.

While Marcia was distracted with Lisa at the entrance to the tomb, Kathi silently dashed into the cave that led to Darlene's cavern. The goth girl was hoping that she could make it far enough into the darkened area so the guard couldn't see her if she suddenly turned away from Lisa for any reason.
After groping along blindly for about two minutes, Kathi stopped as she rounded a turn and rested against the cave's stone wall. Breathing heavily, she figured that she was almost there, perhaps another twenty yards or so. Nothing should be able to stop her now from seeing Darlene.
"You know, that was pretty good, Kathi. No one else has managed to just 'sneak' past any of the guards before. In the past when my cavern was invaded, they had to knock the guards out or else get into a brawl to get this far. You were pretty resourceful."
Kathi was startled by the voice and she nearly screamed. The only thing that stopped her was that the voice was feminine and very pleasant. Still frightened, the goth girl spun to face whoever had snuck up on her. It was too dark in the cave to see anything more than a obscure silhouette, but Kathi figured it could only be one person.
"I came to see you," Kathi replied, hoping her guess was correct and this was indeed Darlene.
"Yes... I see in your mind that you want to become a vampire. Just answer one question for me, will you?" Darlene paused a second or two for effect before asking, "Are you nuts?" Darlene didn't get an answer, didn't really expect one. After probing the young girl's mind again, the beautiful vampress said, "Take my hand. I'll lead you through the cave to my cavern. We'll have some light back there."
Agreeing, Kathi allowed Darlene to safely lead her through the final few turns of the dark cave. Once inside Darlene's large cavern, the bright artificial lighting made Kathi squint until her eyes adjusted. Looking around, the goth girl was astounded to see that Darlene had all the comforts. There was a huge motorhome in the center of the cavern with a natural spring just a few yards away. Somehow, fresh air circulated and with the aid of the artificial lighting, trees and shrubbery were growing along the far wall of the cavern. To Kathi, it looked like a city park or a camping area. "Why did you ask if I was nuts?" she asked, still in awe over the comforts Darlene enjoyed. "I wouldn't mind living like this!"
After having read the young girl's thoughts, Darlene knew that mere words alone were not going to change Kathi's mind from wanting to become a vampire. Still, she had to try. "Very few vampires live like this, Kathi. Most are forced to spend their days in barns, vacant houses and some even have to turn into bats and sleep inside hollow trees just to avoid the sunlight. Please believe me when I say that this is not the normal lifestyle of one who has turned. The most frightful time for a vampire is during the daylight hours. You never know when someone will drive a stake through your heart while you're sleeping."
"That doesn't matter. If I'm careful, I can live forever! Nothing you say will change my mind. Now please, just bite me so I'll turn!"
Darlene sighed and looked up towards the roof of the cavern. She was hoping for some insight on how she could convince this young brat that her wish was foolish. The beautiful vampress was tempted at first to simply tell Kathi to leave. After all, Darlene wasn't the one that granted wishes, that was Abe's specialty. Abe! Yeah! How would he handle this girl? Just then, an idea came to Darlene. "So, there's nothing I can say that will convince you, huh? Well, okay then. If you want to become a vampire, follow me." Darlene took Kathi's hand and ushered her over to the other side of the motorhome, towards Gail's cell. Once Kathi saw where she was being led, she tried to break Darlene's grip and run. However, the vampress was too strong. There was no way in the world Kathi was going to free herself.
When Vampra saw Darlene dragging the young mortal her way, she immediately went into a frenzy. The feral creature began rattling the cage, and pulling hard at the door. Black saliva began drooling out from between her lips and her razor sharp canine teeth grew in anticipation of fresh blood. A low moan slowly turned into a loud screech as Vampra tried with every ounce of her strength to break through the reinforced steel mesh and bars to attack Kathi.
"Why are you fighting, Kathi? You want to become a vampire, don't you? I don't need to feed right now, but Gail here does. She can turn you just as easily as me."
"No! Not her! Look at her! She's gruesome . . . crazy!"
"Yes, she is, isn't she?" Darlene replied, getting ready to deliver the words that will change the girl's mind. "And chances are, you'll end up the same way. As young as you are, your mind won't accept what you'll soon become and you'll start losing it. Yep, chances are, you'll end up just like this!"
Darlene knew that fear was sometimes able to give someone incredible strength, but even so, the vampress was surprised at how easily Kathi tore loose from her powerful grip and ran back out of the cavern. As the lovely vampress watched in amusement, she blindly put her hand on Gail's cage in an attempt to calm her down and said, "It's gonna be all right, cuz. I'll feed you in a minute. It may not taste as good to you as that young girl's fresh blood, but it'll just have to do."
Walking over to her motorhome to get some bottled animal's blood from the refrigerator, Darlene couldn't help but chuckle.

Taking a look to the future again for all possible alternatives, the ghoul said, "I ASK YOU, YOUNG LADY . . . IF YOU HAD THE MONEY TO TAKE CARE OF ALL THE CHILDREN YOU'VE EVER WANTED TO HAVE, WOULD THAT SATISFY YOUR REQUEST OF ME?"
"Of course! Then the problem would be solved!"
"Then why didn't you ask for money in the first place?" Charles asked, unable to hold back any longer.
"Because everyone in town knows that Abe punishes those who ask for such things. I didn't want anything for myself. I just didn't want to raise a child in poverty."
Abe knew what to do . . . he knew exactly what to do. But first, he needed to go on a little spectral trip. Sending a part of his spirit into the temporal realm, he used his awesome abilities to perform a task he had never attempted before. Moments later, once again in the present time frame, he said, "THEN YOU SHALL HAVE IT! AT YOUR HOME, I HAVE JUST PLACED A SUBSTANTIAL AMOUNT OF GOLD. I HAVE GIVEN INSTRUCTIONS TO YOUR MOTHER TO TAKE CONTROL OF IT UNTIL YOU ARE OF AGE. NOW GO AND RAISE YOUR CHILDREN TO BE WHAT THEY ARE DESTINED TO BE. AND LITTLE GIRL . . . NEVER COME TO ME AGAIN." The last words were ominous, a warning.
After the girl had left the tomb, Peterson turned to Abe and asked, "What did you mean by 'children,' Abe? Is she going to have more than just this one child in the future? How many?"
"SHE IS NOW THE MOTHER OF TRIPLETS, MY FRIEND. THE ORIGINAL CHILD WILL FINANCE A VACCINE FOR A LETHAL VIRUS THAT WILL PLAGUE MANKIND IN THE YEARS TO COME. OF THE TWO I JUST GAVE HER, ONE WILL BECOME A RELIGIOUS LEADER AND THE OTHER . . . THE PRESIDENT OF THE UNITED STATES. YOU SEE, NO ONE KNOWS WHAT THEIR CHILDREN WILL BECOME IF GIVEN THE CHANCE. THE KEY IS TO GIVE THEM THAT CHANCE."
"You j-just created life?" Charles Peterson was stunned. Being raised a Catholic, he had always believed that only the Lord and love can create life.
"NO. THAT IS BEYOND MY CAPABILITIES. I MERELY WENT INTO THE FUTURE AND RETRIEVED THE CHILDREN SHE WAS GOING TO HAVE NATURALLY. THEY WOULD HAVE GROWN UP TO FULFILL THE SAME DESTINIES. I SIMPLY GAVE HER ALL HER CHILDREN AT ONCE."
Peterson had to grin at the big guy's brand of justice and asked, "You couldn't have just given her mom the money and let it go at that, huh?"
"NEVER."
"What's going to be her price?" Peterson asked, envisioning all sorts of possible scenarios, one of which was the girl not living long enough to see her children fully grown.
"THINK ABOUT IT, CHARLES. TRIPLETS... THAT YOUNG GIRL IS GOING TO HAVE A HELL OF A CHILDBIRTH."
The End
E-Mail the author at: CarlMerritt@compusere.com

---