Eternal Entity

By Carl R. Merritt
A month has gone by since the capture of Vampra, a quiet thirty days in which the town of Moore's Lake tried to recuperate from the rampages of the feral vampire.
In accordance with Abe's wishes, members of Captain Long's assault team have been standing guard over the entrance to Darlene's cavern, which was now situated as an offshoot of Abe's tomb. So far, not one member of the assault team has had to allow anyone to enter the devious ghoul's crypt.
However, things around Moore's Lake have a habit of changing very quickly.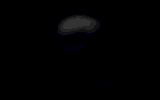 His name was Jeremy Dalton, a twenty-five year old very rich account executive for a Baltimore rental agency. Since first hearing about Abe's tomb almost a year before, Dalton's only mission in life was to devise a way to attain eternal life from the ghoul without paying any sort of price for the wish. Being of above average intelligence, and very conceited, he knew he could outwit the ghoul if he put his mind to the problem. Finally, after months of research and consideration, Dalton believed he had come up with the right way to word his request. Already staying at a motel in Moore's Lake, the only thing he had to do now was work up the courage to travel to the ghoul's tomb and put his plan to the test. He knew if his request was worded correctly when he approached the ghoul, he would live forever, but if he screwed things up...
Sitting on the hotel bed, Jeremy Dalton's attention was riveted to the small television while a documentary went on about the families of the people Vampra had killed. The show's commentator was a man named Charles Peterson, a middle aged man who was actually once proclaimed as being the top newspaperman in the country. This was all well and good, but Dalton knew one other important fact about Charles Peterson: he was one of the few mortals on the planet who have the distinction of being friends with the long dead Abraham Wilkes, also known as Abe . . . the ghoul himself.
Jeremy's request, which he had written down on paper weeks before, was intentionally brief as to not allow the ghoul to purposely "misinterpret" any of the wording. He thought that might have been the mistake of all Abe's past visitors: too much talk and too little thinking.
Turning the television off after the half hour show concluded, Jeremy left the hotel room. His destination . . . Abe's tomb.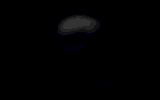 Sitting at a small folding table with only a kerosene lamp and a book for company, Marc Lamas found himself bored to death. It was a Saturday afternoon and he had better things to do than stand guard for a couple of vampires who, in his opinion, no one was going to be stupid enough to bother anyway.
Not finding the book he had been trying to read interesting, he dog-eared a page and laid it on the table. Leaning back in the chair with his hands behind his head, Marc mentally kicked himself for volunteering to take over this shift for Jake Anderson, the cop who was scheduled to be here now.
Damn Anderson anyway! he thought. Just because he has a cousin who's getting married, I'm stuck playing den mother for two of the three most powerful entities in the county! Why do they need protection anyway? Darlene alone could kick anyone's butt who's dumb enough to try and kill her! Why am I here? That Damned Anderson! When I get off, I should...
Marc's thoughts were interrupted by the sound of footsteps. Instantly, he rose from his chair and scanned the main tunnel with his flashlight. He saw a man approaching.
"Hey, buddy! Just where do you think you're going?"
Jeremy was caught off guard by the bright light in his eyes and the authoritative voice. He wasn't expecting anyone else to be here except the ghoul.
"I'm c-coming to see Abe," he replied, thinking the truth might be the way to go. "Who are you? And get that damned light outta my eyes!"
Patrolman Lamas lowered the light somewhat so it illuminated the cavern floor in front of the stranger. As the guy neared, the cop desperately fought a battle with his conscience trying to decide where to go from here. Marc knew that if the stranger went to see Abe, he would suffer dire consequences. But on the other hand, Marc knew that if he intervened, if he attempted to stop the stranger in any way, Abe would punish him as well.
But what if I just point out the facts? Marc wondered, glancing at the tomb's entrance. What possible harm could come from that?
The kerosene lamp did a fine job of illuminating Marc and it wasn't but a few seconds until Jeremy noticed the badge. Just great! A cop! What in the hell is he doing here? Jeremy had always hated cops ever since the day he was first caught with an ounce of pot at sixteen years old. To this day, whenever Jeremy spotted a police officer, his anger would rise to the point whereas his teeth would start to grind. Today was no exception.
"Who are you?" Marc asked the man once they were face to face. "And what is your business here?"
"I already told you, moron. I'm coming to see Abe. Not that it is any of your damned business! Now get out of my way!" Jeremy tried to push his way past, but found that the cop was standing fast, prohibiting him from going any further.
Marc was not easily intimidated, certainly not by the likes of this young punk, who was dressed in docker slacks, designer pullover and a hundred dollar pair of sneakers. Around the guy's neck was a gold chain the likes of which Marc had never seen before. It was huge, easily costing more than what Marc made in a month. Shining the light down, the cop also noticed matching gold rings, eight of them, one on every finger but the thumbs. Marc idly wondered why anyone who could afford such clothes and jewelry would have a need to see the ghoul in the first place. What could this idiot possibly need so badly that he would risk his life this way?
"Before I allow you to proceed, I want you to take a look at this!" Marc then took his flashlight and shined it on the words inscribed on the wall by the tomb's entrance. They read: ALL YE WHO ENTER BEWARE! A PRICE FOR THOSE WHO DARE!
"The story goes that those words were written by a man who once saw the ghoul. Those are his words of warning to young idiots like you. Now . . . you still want to see Abe?" Marc asked, afraid he already knew the answer.
"You better bet your badge I do, cop! Now like I said, get outta my way!"
Marc backed off to let the man pass, wondering as he did so if he had said too much. Abe's warning was quite clear - attempting to stop anyone from seeing him would result in severe consequences.
The cop swallowed hard as the guy passed and wondered just how Abe defined the word "severe."
Jeremy brushed past Marc in a fit of rage and nearly ran into the tomb's door . . . an old tombstone. With a rush of adrenaline, the young account executive heaved the large stone aside, not caring that it nearly came off its leather hinges. He stepped inside.
"Abe! Hey, Abe! Answer me!" he yelled once he had stepped over the old bones laying at the doorway.
It took the ghoul only a moment to respond. In a breathtaking display of cosmic light and swirling mist, he appeared just a few feet in front of Jeremy, who by this time was just getting over his anger at being delayed by the cop.
"YOU HAVE A REQUEST?"
"You're damned right I do!" Jeremy replied, expecting a lot more than this judging from all he had heard about the ghoul. He went ahead with the carefully worded request that he had worked on for so many months. "My request is this: I want to live forever without ever growing older and without any type of reprisals or payments either from you or any other being, living or dead!"
"NOT POSSIBLE."
This stunned Jeremy for a second. How was the request "not possible" for cryin' out loud?! Abe was supposed to have the power to even wake the dead! He once gave a man a second head, and even sent a man back in time! This ghoul is either lying or else this whole thing is a farce! Perhaps this is all nothing more than a big light show developed by the town of Moore's Lake to draw in tourists! Jeremy thought.
"Why is my request not possible?" Jeremy demanded.
"EVEN IF YOUR BODY RETAINS ITS YOUTH, IF TIME CONTINUES, SO SHALL YOU GROW OLDER. REWORD YOUR REQUEST. I CAN NOT STOP TIME FOR THE WHOLE WORLD JUST BECAUSE YOU WISH TO GROW NO OLDER."
Jeremy understood completely. He might retain his youthful appearance throughout eternity, but the ghoul was right . . . he would still be growing older with each passing day. But rewording the request . . . Jeremy knew this was dangerous business. If one word was purposely misinterpreted by the ghoul, it could easily spell disaster! But as conceited as Jeremy was, he still believed he could outwit Abe.
"Okay, this is my reworded request: I wish to live forever while always retaining the mental and physical capabilities of this day and while so granting this request, you shall not invoke any type of payment or reprisals or in any way take such action not directly related to the fulfilling of this request."
It was then Abe knew he had outwitted this young know-it-all.
"GRANTED."
"Granted? Just like that?" Jeremy was stunned. He couldn't believe it would be so easy.
"I SHALL FULFILL YOUR REQUEST AND IN DOING SO, NOT STRAY FROM THE CONDITIONS YOU HAVE PLACED UPON ME. BUT REMEMBER ONE THING, YOUNG MAN . . . THE DAY IS YOUNG! THE DAY IS YOUNG!"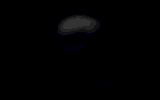 It was Saturday evening and the night life around Moore's Lake was just starting to get underway. After the long ordeal with Vampra, with no one being able to leave their houses after sundown, it felt good to get out and enjoy the evening. The bars were crowded, the movie houses were packed and the town square had hundreds of people hitting the stores.
Among the people of Moore's Lake was Jeremy Dalton, sitting at the bar in a small tavern and buying everyone drinks. He had a right to party, he was telling everyone. He had just outwitted Abe.
Or so he thought.
"And there I was," he repeated for a new group of astonished people. "I looked him right in the eye and told him I wanted to live forever! And the way I worded it, he couldn't play any of his games and use what I said against me!"
Everyone found this hard to believe, in fact, impossible to believe. The ghoul had a history of always getting his own way. How could this young man, barely old enough to drink the whiskey he was holding, be intelligent enough to win out over a ghoul that has been alive since the Civil War?!
Yet, here he was, sitting in a bar buying everyone drinks, and apparently no worse off than before after having visited Abe and having his request fulfilled...
Suddenly, in a brilliant array of swirling mist, Abe appeared in the bar. He hovered above the crowd like a cloud, his gaze centered on Jeremy Dalton.
"IT IS TIME," Abe announced with his booming voice.
"Time for what? Our business has ended!"
"NOT QUITE. I HAVE YET TO FULFILL MY PART OF THE BARGAIN. I WILL NOW DO SO."
"Wait a minute! Explain!" Jeremy's heart began to pound in his chest. He couldn't begin to imagine what the ghoul had in mind. What was he going to do?!
"YOUR REQUEST WAS AS FOLLOWS:" Then, in a voice that imitated Jeremy's to a tee, the ghoul said, "I wish to live forever while always retaining the mental and physical capabilities of this day and while so granting this request, you shall not invoke any type of payment or reprisals or in any way take such action not directly related to the fulfilling of this request.
"AS PER YOUR REQUEST, I FULLY INTEND TO ALLOW YOU TO RETAIN THE PHYSICAL AND MENTAL CAPABILITIES OF THIS DAY. HOWEVER, THIS DAY HAS NOT YET ENDED. YOU WILL LIVE FOREVER, BUT AS I THINK YOU SHOULD, NOT AS YOU BELIEVE YOU DESERVE!"
Then, in a flash of light, both Jeremy and Abe disappeared from the bar, the patrons all looking around in panic.
Suddenly, there was a shout from outside the bar. Someone was yelling, "Hey! Look at that!"
Leaving the tavern, the customers noticed right away what all the commotion was about. The town had a new statue . . . a statue of Jeremy Dalton!
"HE WANTED TO LIVE FOREVER WHILE RETAINING THE MENTAL AND PHYSICAL CAPABILITIES OF THIS DAY." Abe was a hundred feet above the crowd, explaining with a voice that sounded as though it came straight from hell. "SO JEREMY DALTON SHALL. HE WILL REMAIN LIKE THIS FOR ALL ETERNITY, WHILE BEING COMPLETELY AWARE OF HIS SURROUNDINGS AT ALL TIMES."
"But why leave him like that forever?" someone yelled up at the ghoul.
"HE REQUESTED THAT I NOT TAKE ANY ACTIONS NOT DIRECTLY RELATED TO THE FULFILLING OF HIS REQUEST. SO I SHALL NOT DO SO. HE WILL REMAIN LIKE THIS UNTIL THE END OF TIME!"
And with that, Abe vanished, leaving behind a group of terrified onlookers. After another quick glance at the statue, they all went home where they believed it to be safe.
It was not yet time for Moore's Lake to have a night life...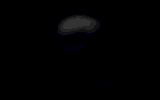 Marc Lamas was sitting with his family watching television. The eleven o'clock news was on. Charles Peterson was a guest speaker and was explaining the situation concerning Jeremy Dalton. Mary Lamas, Marc's wife of five years, was just returning to the living room after having changed into her nightgown and robe when Abe appeared.
The ghoul immobilized them all while he pondered the strange device displaying his friend, Charles Peterson.
The Lamas family, unable to speak or move, marveled at how Abe had become transfixed by the television. It was as if he had never seen one before. But how could that be? they wondered. Television has been around for a long time, about half a century. Surely Abe had been aware of their existence...
"OF COURSE I'VE KNOWN ABOUT THEM," Abe replied to their thoughts. "IT'S JUST THAT I CAN'T UNDERSTAND WHY PEOPLE LET THEM AFFECT THEIR LIVES SO MUCH. IT'S A DEVICE, A MACHINE . . . NOTHING MORE. MACHINES COME AND THEY GO, SOON REPLACED BY SOMETHING ELSE APPARENTLY MORE IMPORTANT. I'VE ALWAYS BELIEVED THE MOST IMPORTANT THINGS IN LIFE ARE THE HUMAN HEART AND THE HUMAN MIND. THOSE TWO THINGS ARE IMPORTANT, NOTHING ELSE."
Abe wandered away from the television to float over towards Marc, who sat there wondering about his own fate. If Abe was in his house, obviously for a reason, then it was evident now that he had crossed the line earlier in the cavern by attempting to dissuade Dalton from entering the tomb. But what was Abe going to do about it? What was the penalty for disobeying the ghoul's wishes? Death?
Abe unfroze the family as he continued speaking. "YOUR BUSINESS WITH ME IS NOT FINISHED EITHER, MARC LAMAS. YOU WERE AWARE OF MY WARNING AND YET YOU CHOSE TO IGNORE IT BY TRYING TO TURN DALTON AWAY. YOU MUST BE PUNISHED SO NO ONE ELSE WILL BE FOOLISH ENOUGH TO MAKE THE SAME MISTAKE. BUT I HAVE NOT YET DECIDED ON A PUNISHMENT. YOUR INTENTIONS WERE GOOD, YET UNWISE. HOW SHALL I EXTRACT PAYMENT?"
"Uh . . . Abe? Can I make a suggestion?" This came from Marc's wife, Mary, who thought she had the perfect solution.
"PROCEED."
"Marc has been cursing Jake Anderson ever since he got home. You see, it was Jake who was supposed to be on guard duty today instead of my husband, and Marc has been cursing him all evening because of it. Marc always curses a lot anyway, but not as bad as today. So, why don't you do this: take away his power of speech for a year and in addition, make him take over all of Jake's extra duties for the same length of time. With that punishment, not only will Marc learn his lesson, but I'll have a house with no vile language for a whole year. What do you say?"
Marc felt like strangling his wife. How could she even suggest such a harsh punishment? Wasn't a wife supposed to look after her husband's best interests? How could she do this to me?!
Abe, knowing the thoughts of everyone in the room, decided to leave the decision up to Marc. If he's smart, he'll set aside his anger and say the right thing. "YOUR OPINION, MR. LAMAS? DO WE GO WITH YOUR WIFE'S CHOICE OF PUNISHMENT, OR DO YOU WANT TO LEAVE IT UP TO ME?"
Marc didn't know how to answer. He was aware that he hadn't actually done anything either legally, or ethically wrong in trying to stop Dalton from entering the cave. In fact, being a cop, he had an obligation to "Protect and to Serve" the dumb idiot. Realizing this, he didn't think Abe would punish him too severely, certainly not as harshly as his wife's suggestion. But on the other hand, Mary's suggestion was a known factor. In a year, it would all be over and he could get on with his life. There was no way he could possibly know what Abe had in mind, it could be much worse . . . or hardly anything at all.
"May I ask my wife a question first?" Marc asked the ghoul.
Abe simply nodded.
"Mary, why?! Why come up with something as harsh as that? Couldn't you have suggested something a little kinder considering it was your own husband and family you were concerned with?"
"You answered your own question, Marc. I was concerned, not only about you, but about the welfare of our children as well. How would our two baby girls turn out if they were brought up in an environment of cursing and hatred? While you're thinking about that, consider this . . . you don't know what Abe's punishment is going to be! For all you know, he might be thinking 'death' or something! I just suggested something that guaranteed that I still have a husband. That was what was 'concerning' me! Now be smart and make the right choice! With any luck, you'll learn a lesson from this and be a much better father in the years to come."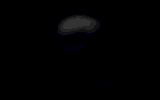 The months, days, even minutes went by very slowly for Jeremy Dalton. With his entity trapped inside the bronze statue located in the middle of the town's square, he could see the people as they walked by staring at him and shaking their heads sometimes in amusement and occasionally in sadness. He could hear their words, but of course, could not reply.
He couldn't move, couldn't feel, or even chase away the pigeons that seemed to enjoy resting on his head. All he could do was see, hear and think . . . yeah, think of how stupid he had been. . . for all eternity.
One winter day, a few months after having been placed inside the statue, a man came near him with something in his hand. With the heavy overcoat and the hat pulled low to block out the cold wind, Jeremy couldn't see his face. The man stopped and began writing something on a notebook pad. When he finished, he held the paper up for Jeremy to see. It simply read: Thank You.
As the man backed away, Jeremy was finally able to see his face. It was the cop from inside the cavern . . . Marc Lamas.
The End
Next . . . RAMPAGE! They steal Abe's bones from inside his tomb. But where can they hide after the ghoul begins his terrifying crusade to find them?
E-Mail me at: CarlMerritt@compuserve.com