Win One of Abe's Awards!
With the popularity of Abe's Tomb growing leaps and bounds, the ghoul has been forced to produce a few awards to show his appreciation to the other horror sites on the web. I suppose even Abe must keep up with the times. Below are the conditions. Please read them. (Following them would be nice also.)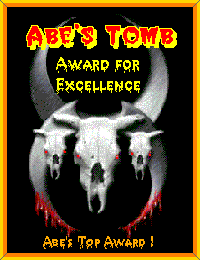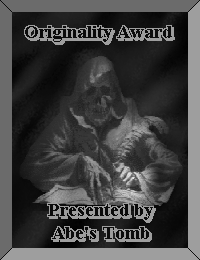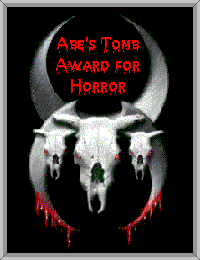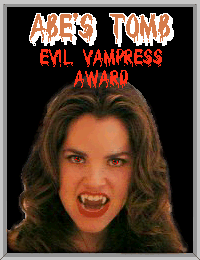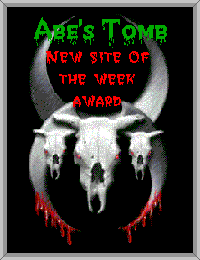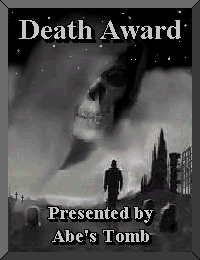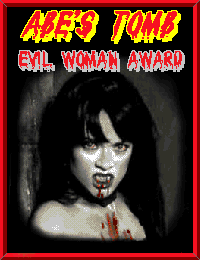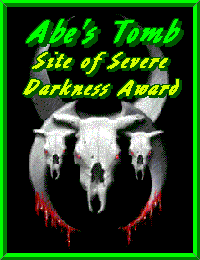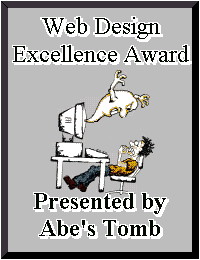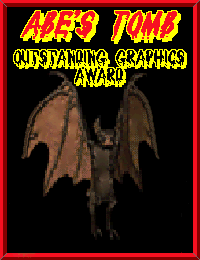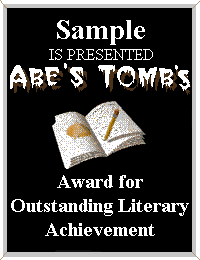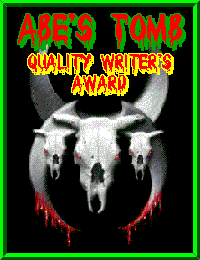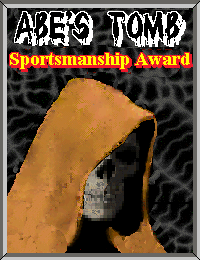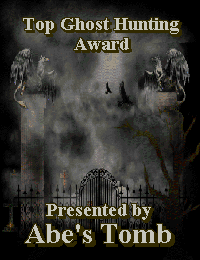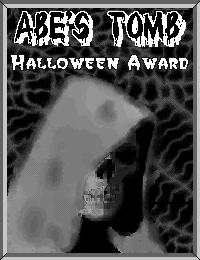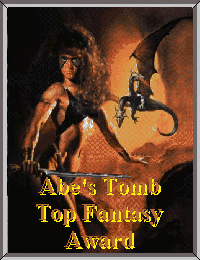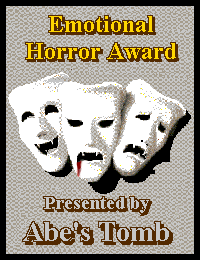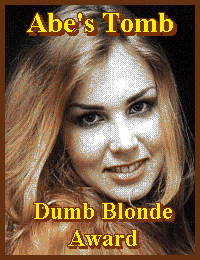 In order to win one of these awards, you must:
1) Sign Abe's guest book before it winds up in my graveyard! (If the guest book goes down again, I'll know about it, apply anyway.)
2) E-Mail me the pertinent info about your horror site so it can be checked out!
3) Not have a site that contains material unsuitable for children!
4) Link the award back to Abe's Tomb at: http://www.carlmerritt.com
5) Have a site that is worthy of such fine awards! Halloween, gothic and horror sites are all eligible. Websites simply containing links with no other value of their own and those that are merely autobiographies should not even bother applying.
The gold outlined "Award for Excellence" is the most prestigious award and will be granted only to the very best of sites. Apply by E-Mail and within a few days I will reply with the award I think you deserve as an attachment, if you qualify of course.
To safeguard the integrity of these awards, all sites chosen will be listed below in the "granted" section. Any site that shows one of Abe's awards that is not listed here has simply stolen the award. Any website caught having an unauthorized award will also be posted...
Any site failing to link the award to Abe's Tomb will not be posted in the granted section!
E-Mail your application to the address located at the top of my main page, www.CarlMerritt.com. The address is spelled out to detour web spiders. Good luck! These awards will not be given out lightly!
---
Sites Granted an Award:
Jan's Courtyard (Award for Excellence - 6/11/2000) (Top Award!!)
Castle Dracula (Award for Horror - 6/18/2000)
Jezebel's Hell (Web Design Excellence Award - 6/19/2000)
Countess Blood's Halloween Horror (Award for Horror - 6/21/2000)
Kit's Krypt (Award for Horror 6/21/2000)
Castle Dracula (Web Design Excellence Award - 6/25/2000)
BrandedCreed (Site of Severe Darkness Award - 6/27/2000)
CreepyWeb (Quality Writer's Award - 7/12/2000)
MindShadow (Evil Woman Award - 7/12/2000)
Mandee (New Site of The Week Award - 7/12/2000)
Lisa's Domain (Award for Sportsmanship (Winner's Award) - 8/7/2000)
Terror Zone (Award for Horror - 8/8/2000)
Drkglaive's Drkrealm (Site of Severe Darkness Award - 8/13/2000)
Vampress Version X (Evil Vampress Award (well suited) 8/18/2000)
The Ultimate Halloween Page (Web Design Excellence Award - 9/2/2000)
Twiggs - Queen of Eternal Darkness (Site of Severe Darkness Award - 9/2/2000)
Spooky Web (Site of Severe Darkness Award - 9/17/2000)
Wounded Flesh, Broken Mind (Evil Woman Award - 10/1/2000)
Fuzzy Freak Show (Award for Horror - 10/1/2000)
Halloween Press (Evil Woman Award - 10/15/2000)
The Haunt (Web Design Excellence Award - 10/22/2000)
The Spook House (Award for Horror - 11/4/2000)
Goldi & Ravin's Halloween Site (Award for Horror - 11/4/2000)
Scary Movies (Pure Evil Award - 11/4/2000)
Scrappy's Haunted Halls (Halloween Award - 11/12/2000)
Fritemares (Quality Writer's Award - 11/13/2000)
The P. I. T. (Top Ghost Hunter's Award - 11/23/2000)
Darkness Descends (Site of Severe Darkness Award - 1/16/2001)
Horror Hotel (Halloween Award - 3/3/2001)
Dark Poetry of the Fallen Angel (Quality Writer's Award - 3/14/2001)
The Devil's Playground (Site of Severe Darkness Award - 3/27/2001)
My Darker Side (Site of Severe Darkness Award - 4/6/2001)
The Twisted Tails of Fleagor (Halloween Award - 4/8/2001)
My Cemetery (Award for Horror 5/12/2001)
Planet Horror (Site of Severe Darkness Award - 5/12/2001)
Black Orchid (Award for Excellence - 5/20/2001)
Terry Wright's Sci/Fi Showcase (Quality Writer's Award - 5/21/2001)
LadyHawke (Web Design Excellence Award - 5/22/2001)
The Demonic Rose (Site of Severe Darkness Award - 6/12/2001)
Nite Creatures (Site of Severe Darkness Award - 7/8/2001)
Terry's Sci/Fi Showcase (Outstanding Literary Achievement Award - 7/9/2001)
Lair of Michael Myers (Award for Horror - 7/13/2001)
Rear View Mirror (Outstanding Literary Achievement Award - 7/23/2001)
Amaranth (Site of Severe Darkness Award - 7/26/2001)
VampGirl (Evil Vampress Award - 8/6/2001)
North Texas Paranormal Research (Top Ghost Hunting Award - 8/12/2001)
Dark Lover DA (Web Design Excellence Award - 9/1/2001)
Ghost & Voodoo Info (Top Ghost Hunting Award - 9/9/2001)
Day Dreamers Delight (Quality Writer's Award - 9/9/2001)
1428 Elm Street (Site of Severe Darkness Award - 9/9/2001)
West Michigan Ghost Hunters (Top Ghost Hunting Award - 10/14/2001)
Something Wicked: Chicago Hauntings (Top Ghost Hunting Award - 10/15/2001)
Meanies (Halloween Award - 11/4/2001)
Hall8ween - The Homecoming (Award for Excellence - 11/27/2001)
VampQueen's Haunting ( Award for Horror - 12/12/2001)
Neclords Necronomicon (Award for Horror - 1/20/2002)
NecGoddess (New Site of the Week Award - 1/20/2002)
Wolfman's World (Death Award - 2/02/2002)
Mid-Michigan Ghost Hunters Society (Top Ghost Hunting Award - 2/18/2002)
Dark Lotus 2 (Award for Excellence - 3/29/2002)
Shadow Palace (Award for Excellence & Web Design Excellence - 4/27/2002)
Matt's Site of Horrors (New Site of the Week Award - 5/1/2002)
SpiritSearchers (Abe's Top Ghost Hunting Award - 6/08/2002)
Gettin Spooky (Abe's Top Ghost Hunting Award - 8/04/2002)
Dark Themes (Web Design Excellence - 8/12/2002)
The Haunted House (Ghost Hunting Award - 8/26/2002)
The Coven Organization (Evil Vampress Award - 8/26/2002)
Amethysts Psychic Visions (Award for Excellence - 9/04/2002)
Michigan Ghost Watchers (Top Ghost Hunting Award - 9/17/2002)
The Chancery House (Award for Excellence - 10/07/2002)
T.M. Gray, Horror Writer (Outstanding Literary Achievement Award - 10/07/2002)
ParaHaunt (Top Ghost Hunting Award - 10/13/2002)
Mistress Delilah's (Evil Woman Award - 10/13/2002)
Kingdom of Shadows (Site of Severe Darkness Award - 10/15/2002)
Upper MidWest Ghost Society (Top Ghost Hunting Award - 10/16/2002)
The Tomb of Outpost 10F (Outstanding Achievement in Sci-Fi Award - 11/4/02)
Charger's Domain (Fleet's Golden Readers Award - 11/09/02)
Haunted Huckie (Top Ghost Hunting Award - 11/12/02)
A NightMare on Elm Street (Originality Award - 12/26/2002)
The Paranormal Dimensions (Top Ghost Hunting Award - 1/4/2003)
Death's Drink Page (Death Award - 1/13/2003)
Unseen Realm Lives (Emotional Horror Award - 2/5/2003)
Winter Steel (Top Ghost Hunting Award - 3/1/2003)
Dragons and Graveyards (Originality Award - 3/16/03)
The SoulTaker (Award for Horror - 4/14/03)
HollyWeen (Death Award - 5/27/03)
Spooky Papa (Award for Horror - 5/28/03)
Paranormal Ghost Society (Top Ghost Hunting Award - 6/1/03)
Ultimate Ghost Hunting Org (Top Ghost Hunting Award - 6/3/03)
In the Wee Hours (Quality Writer's Award - 6/17/2003)
Raven's World Of Horror (Award for Horror - 7/20/03)
The Old Wife's Tales (Award for Outstanding Literary Achievement - 7/20/03)
The Old Wife's Tales (Award for Excellence - 7/20/03) (Top Award!!)
Rabid Ryan's Horror Apocalypse (Death Award - 7/21/03)
Les Nosferatu (Originality Award - 7/27/03)
My Nightmare (Award for Horror - 8/03/03)
Ghost Lovers for Life (Top Ghost Hunting Award - 8/5/03)
Davey Horror's Little Shop Of Terror (Halloween Award - 8/19/03)
MidNite Walkers (Top Ghost Hunting Award - 8/21/03)
Rachel's Horror Group (Originality Award - 9/18/03))
Rachel's Horror Group (Top Fantasy Award - 9/18/03)
31 Eyes (Top Fantasy Award - 9/28/03)
Zee Castle (Halloween Award - 10/26/03)
A Ghost in my Suitcase (Top Ghost Hunting Award - 12/01/03)
V.S.I. investigations (Top Ghost Hunting Award - 12/09/03)
AAPI (Top Ghost Hunting Award - 1/04/04)
Vancouver Paranormal (Top Ghost Hunting Award - 5/25/04)
Halloween Movies TK (Halloween Award - 1/18/04)
Haunted NJ (Web Design Excellence Award - 1/22/04)
Lair of the Vukodlac (Death Award - 1/26/04)
Renee's Ghosts (Top Ghost Hunting Award - 3/16/04)
Haunted Mansion (Originality Award - 4/23/04)
Dark Writings (Death Award - 4/23/04)
Halloween (Halloween Award - 4/23/04)
Central Florida Ghost Research (Top Ghost Hunting Award - 5/25/04)
Actress, Nikky Irene (Emotional Horror Award - 5/25/04)
Actress, Nikky Irene (Fleet's Golden Readers Award - 5/25/04)
Monticello Ghost Hunters Society (Top Ghost Hunting Award - 6/15/04)
The Corridors (Award for Excellence - 6/18/2004) (Top Award!!)
Werewolf The Apocalypse (Site of Severe Darkness Award - 7/9/04)
Loner's Dungeon (Award for Horror - 7/9/04)
Post Mortem Magazine (Outstanding Literary Achievement Award - 7/9/04)
Twisted Nightmare Weekend (Outstanding Sci-Fi Achievement Award - 7/9/04)
Southern Maine Paranormal (Top Ghost Hunting Award - 8/16/04)
EliteLit.com (Outstanding Literary Achievement Award - 8/28/04)
Little Seer and London Ontario's Ghosts (Top Ghost Hunting Award - 9/1/04)
Michigan Ghost Watchers (Top Ghost Hunting Award - 10/10/04)
Black Rose Manor (Originality Award - 10/12/04)
Slayers Spooky Sites (Site of Severe Darkness - 12/04/04)
Central Florida Ghost Research (Top Ghost Hunting Award - 12/05/04)
Ghost Hunting at 5 Locks (Top Ghost Hunting Award - 12/06/04)
Nila's Web Page 111 (Award for Excellence - 1/14/2005) (Top Award!!)
AAPI (Top Ghost Hunting Award - 1/20/05) ~~EXCELLENT Site!!~~
ClubZero Ghost Group (Top Ghost Hunting Award - 1/21/05)
The Shanry Paranormal Group (Top Ghost Hunting Award - 1/23/05)
Ghost Club, UK (Top Ghost Hunting Award - 1/25/05)
Midwest Paranormal Investigators (Top Ghost Hunting Award - 3/20/05)
ISIS Paranormal Investigations (Top Ghost Hunting Award - 3/20/05)
Old Haunted Espoir De la Louisiane Plantation (Originality Award - 4/18/05)
Alexis Child's Poetry Empyrean (Emotional Horror Award - 4/21/05)
Alexis Child's Poetry Empyrean (Quality Writer's Award - 4/21/05)
ShadowBox Theatre Company (Originality Award - 4/21/05)
ShadowBox Theatre Company (Award for Excellence - 4/21/2005) (Top Award!!)
Promotional Model, Sherri Foxx (Golden Reader's Award - 4/21/05)
Actress/Model, Amanda Fire (Golden Reader's Award - 4/21/05)
The Dungeon (Site of Severe Darkness Award - 5/16/05)
Will County Ghost Hunters Society (Top Ghost Hunting Award - 8/24/05)
Ghost Club - UK (Top Ghost Hunting Award - 8/24/05)
The Cannibal Within (Quality Writer's Award - 9/6/05)
The Horrors (Award for Horror - 9/6/05)
The Haunted Mansion (Originality Award - 11/5/05)
Legacy of Madame Delphine LaLaurie (Originality Award - 11/5/05)
Missouri Society for Paranormal Research (Top Ghost Hunting Award - 12/11/05)
Missouri Society for Paranormal Research (Web Design Excellence Award - 12/11/05)
Deadly Nightmares (Quality Writer's Award - 10/15/06)
Researchers-In-Paranormal-Specters (Top Ghost Hunting Award - 04/29/07)
California Haunts (Top Ghost Hunting Award - 04/29/07)
The Vampire Project (Originality Award - 12/26/08)
---
MAZE WINNERS TO DATE
Countess Demetria (Haunted Mantion) 4/22/04
Lady Darkness (Dark Writings) 4/22/04
---
Websites that have stolen an award:
None that I have found... (Smart)
---